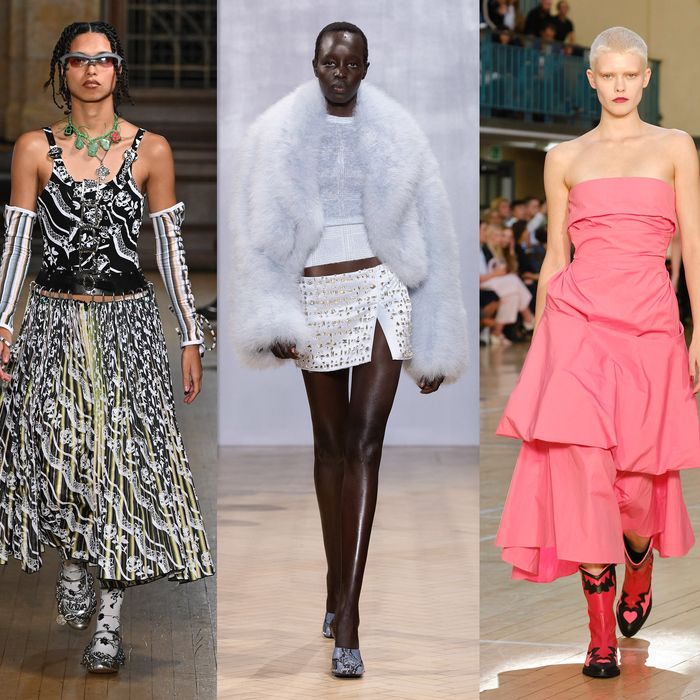 Photo: Nensi Dojaka; Chopova Lowena; 16Arlington; Ben Broomfield
Ask anyone who cares about fashion and they'll tell you the same thing: designers at London Fashion Week are consistently some of the season's most adventurous. That's because incubator spaces like Fashion East, as well as programs supported by retailers like Matches and Browns, offer money and mentorship to young designers. The result: freedom to explore and play.
This season, female designers reigned supreme, with the likes of Molly Goddard, Nensi Dojaka and the ladies of Chopova Lowena pushing the envelope, showing silhouettes too big for a catwalk and bodies that aren't normally portrayed, making the Women's needs were placed at the forefront of the design.
Karoline Vitto has created an important collection for women and women. Growing up in Brazil, she often felt unsafe going to the beach. In her collection, rather than conforming, she highlighted the areas she intended to cover with sculpted silver frames. As her show notes, "The bulge of an armpit, a squash of hip fat, or the curve of a back roll became the subject of Vitto's radically sensual vignettes." Model Alva Claire ended the show in a stunning long, one-hip black dress. It was wonderful.
Photo: Courtesy of Chopova Lowena
The stunning designs of Emma Chopova and Laura Lowena of Chopova Lowena, known for the viral kilt-like chain mail skirt, were seen in full for the first time since the couple won the LVMH award in 2020. But only if you caught it — models were stomping by faster than people could catch them for an Instagram video. The duo paired their signature skirt with tinsel-style sweater vests, printed blouses with cut-outs and corsets, and new pieces like billowy printed dresses and cardigans.
Molly Goddard reminded me that fashion can be a respite. Known for her playful and ruffled designs, the designer created puffy tulle dresses and skirts with neon and polka dot prints this season. The finale was a monstrous white tulle gown massive enough to take revenge on manspreaders.
Photo: Courtesy of Di Petsa
Di Petsa's designer, Dimitra Petsa, known for her signature "wetlook" (clothes and underwear that look like they're wet), wants to make clothes for our growing bodies. "Our bodies are changing so much," she said. "And not just in pregnancy, but with bloating, bloating, weight gain." This was her number one goal when she designed fabric that stretches, pants with healing crystals woven into chakra points, and a corset that buckles up for those who are breastfeeding. The stunning collection, which included a dress printed with a photograph of ancient Greek pottery found in the Mediterranean, was a beautiful evolution of her already stunning pieces.
Photo: Courtesy of Completedworks
Anna Jewsbury from Completedworks has created her own world of treasures – interesting shapes in the form of jewellery, pottery, bowls and mugs – that I would love to live in. Her latest jewelry collection is an expansion of popular pieces she's previously made, like the scrunchie earrings, using new materials like resin. She has crafted new pieces like pearl ear cuffs and sculptural silver signs and necklaces that make me want to hug cluttercore on my neck.
Photo: Courtesy of Nensi Dojaka
Nensi Dojaka, who won the LVMH award last year, proved she has reach. Sure, the designer, who studied lingerie at Central Saint Martins, makes variations on her signature look, but this collection offered some glamor in the form of silver mini dresses and cut-out party pants. (Plus, Emily Ratajkowski wore a stunning pink dress.)
Designed by Erdem Moralıoğlu and styled by Gabriella Karefa-Johnson, the Erdem collection exemplifies how I would dress if I were to attend the Queen's funeral. All the looks, like a corset top paired with a mid-length skirt, were covered with a sheer veil and styled with black loafers.
Photo: Victor Virgile/Gamma-Rapho via Getty Images
Jonathan Anderson, who transformed Loewe, showed off his first eponymous collection in years — a big bubble dress, a mini designed to look like a wrap, and an inverted sweater with a hanger attached. We love a collection with a sense of humor.
Photo: Courtesy of 16Arlington
16Arlington's Kikka bag – named after Kikka Cavenati, co-founder and partner of designer Marco Capaldo who died suddenly last year – is apparently all the rage in London. Last season Capaldo organized a moving tribute to Kikka and this collection was no different. He featured dazzling minis, snakeskin column dresses and beautifully crafted coats.