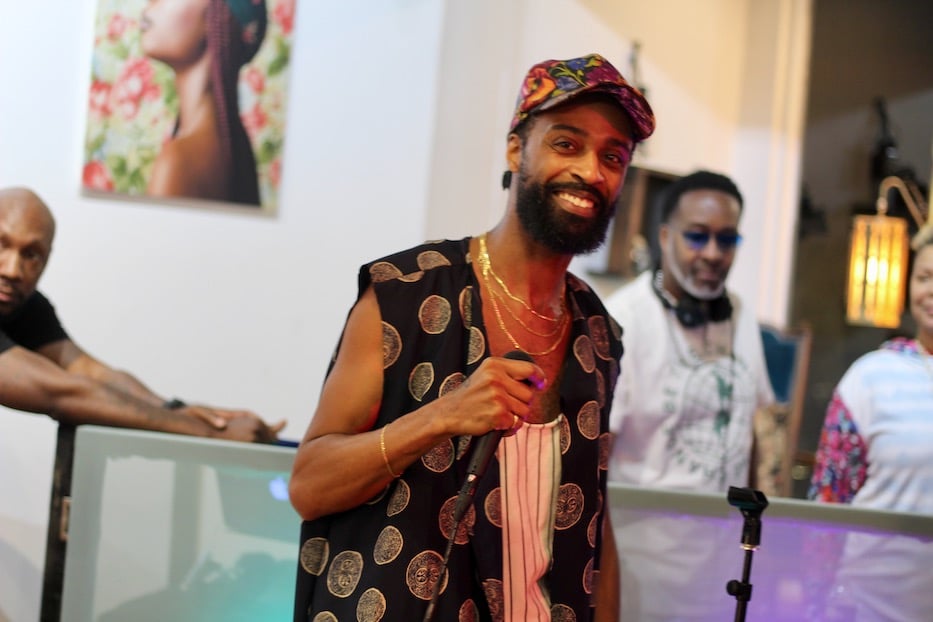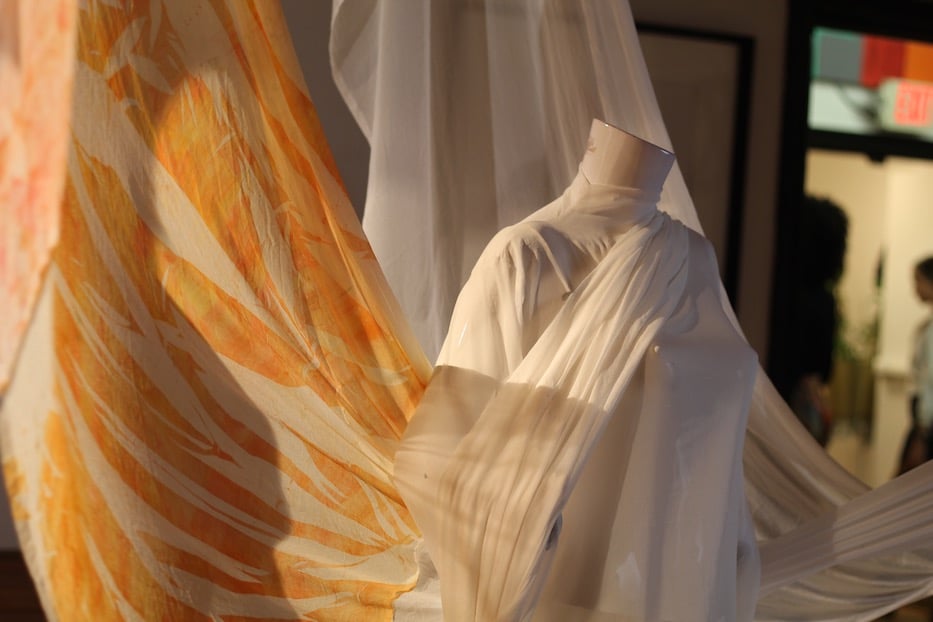 Lucy Gellman photos.
Up at West River Arts, two bolts of printed fabric had taken on a life of their own. One, a milky white, floated from near the rafters to the display below. Another draped a mannequin in white and clementine orange. Together they draped and swam across the room, undulating with the whirr of a fan in the background. If a viewer looked closely, it seemed as if they were almost breathing.
Down a flight of stairs purple flowers bloomed above the black and white crackle of a raincoat. A fur throw peeked out to his right. Light glowed softly in the background. Music and laughter echoed through the room, setting a soundtrack.
Lotta Studio and West River Arts transformed for ETHOS: A wearable art experience Last weekend, it attracted visitors from across the city to discover new work by multimedia designers and fashionistas Tea Montgomery. A lifelong New Haven native and founder of threads of tea, Montgomery used the night to present his ETHOS collection, which was divided into three narrative sections. He also performed some of his original music, which he said may have been the first time in six years.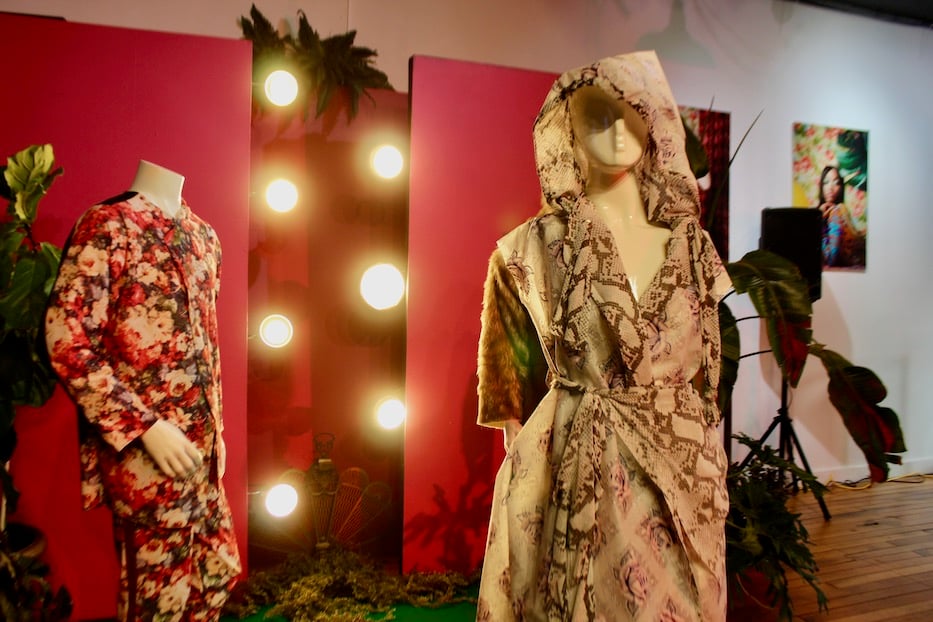 Pieces from "The Jungle". Each narrative section was designed by Mistina Hanscom, co-founder of Lotta Studio. Lucy Gellman's photo.
The collection marks his step into fashion as a full-time career and from individual, bespoke pieces to small series, ready-to-wear collections (they'll never be larger than 20-30 pieces, he said). He collaborated in an intensely collaborative spirit Lotta Studios mistina hanscom, Photographer Lia SinquefieldElaine Roper from ConnCORP, Executive Chef Steve Roberts (aka Nappé roots) and barista Eddy Caves to make the event a reality. By the end of the night, at least five dozen people had passed through the room.
"The bottom line of everything I do, whether it's creative, whether it's community work, whether it's business, is to empower and save souls," he said. "My thing is to help people feel their best, feel like their highest self, feel their most confident, and feel like they can do anything they want to do."
"Ethos is an appeal to ethics," he added. "It's an appeal to what's important to us, what defines us, what challenges us and how we feel about ourselves."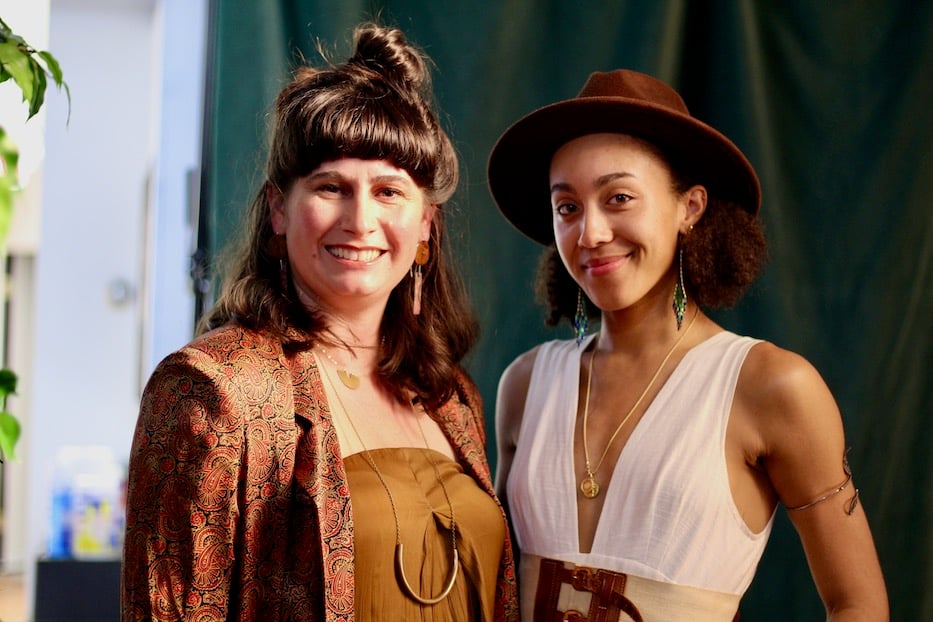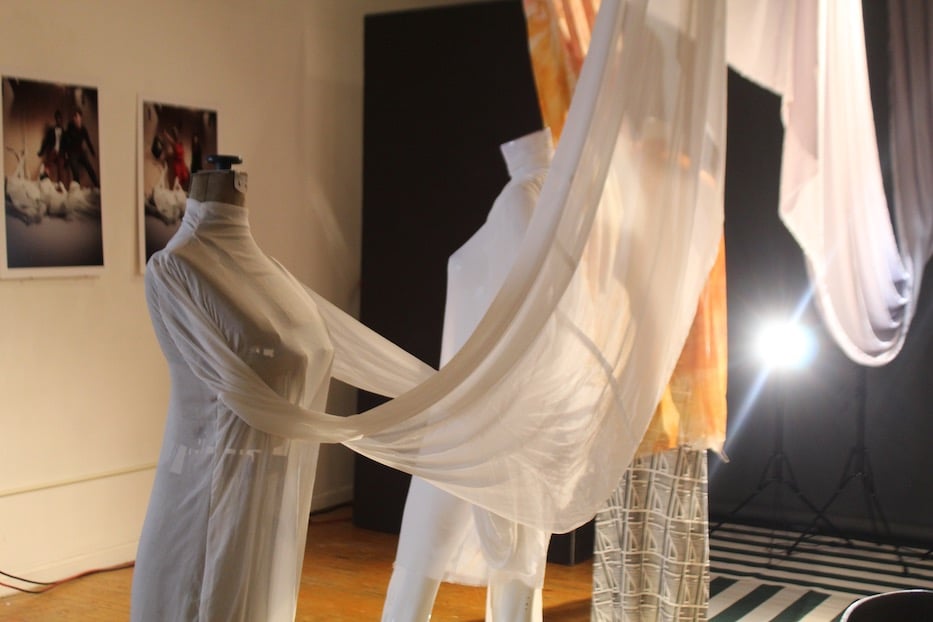 Above: Mistina Hanscom and Lia Sinquefield. Below: Pieces in "Clarity". Lucy Gellman photos.
Threads By Tea was founded five years ago after the 36-year-old artist discovered his passion for clothing design alongside his love of music. As a student at James Hillhouse High School, he had always enjoyed curating outfits but never considered it his calling. But the design kept calling him back. He began working at home on Threads by Tea while holding a number of side jobs. Last year, him moved to a studio at West River Arts.
As he grows Threads By Tea, he sees it as a way to empower himself and those around him, especially artists and entrepreneurs.
The collection itself is split into three distinct parts, each intended to tell a story about where the designer has been and where he's going next. The first, entitled 'The Jungle', features floral and animal prints, fur, snakeskin-like patterns and vibrant fabrics that burst forth and surprise a viewer when they least expect it. He said it's inspired by both the literal jungle and the wrongness of the world, which can feel like a jungle at times.
"Like life, we live in a jungle," he said. "There is a danger. There are predators. We have to figure out how to survive – and then there's the beauty of it."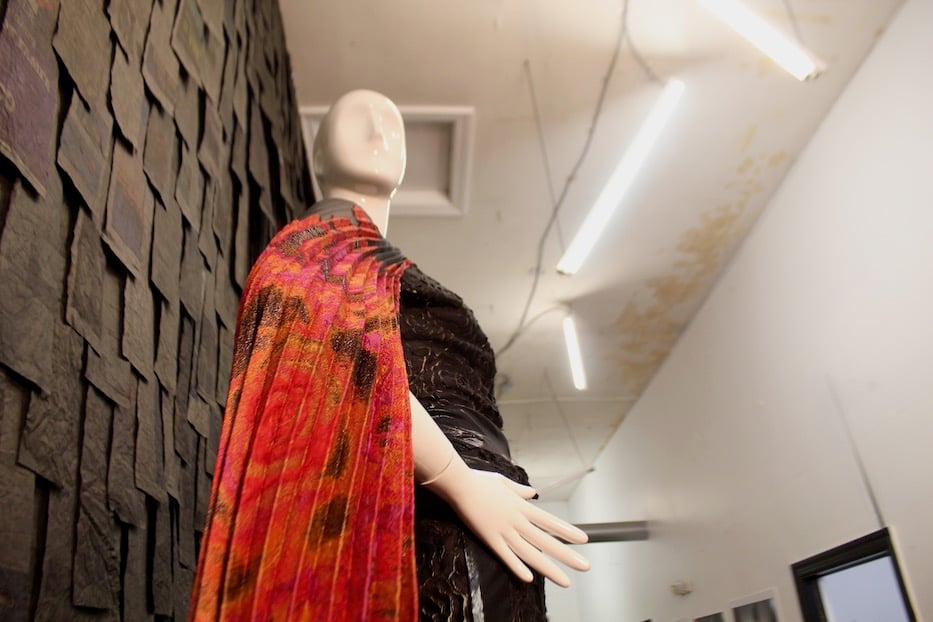 The cape from the "Heroes Collection". Lucy Gellman photos.
The second, the 'Heroes Collection' is a superhero inspired take on streetwear with jumpsuits, tops and bottoms and a cape that turned heads Fashion show at ConnCORP last month. For him, Montgomery said, creating the collection was an opportunity to reflect on what kind of superheroes — and villains — he knew in his own life and which side of good and evil he wanted to be on. "Truly, the difference between a hero and a villain is subjective, it's all a matter of perspective as to what's important to one person versus another," he said.
The final part of ETHOS, entitled Clarity, is inspired by the mental clarity Montgomery has recently found in his own life. Designed with block printed breezy and sheer fabric studio shifts Founder Meghan Shah, the clothes have a clean, easy flow, as if everything else has been removed and only the most important pieces remain. In other words, it's a clothing line that feels like the act of breathing.
Shah – an early collaborator and advocate of Montgomery's work – said she was overwhelmed to walk into a room and discover her work within.
"The point in life where things make sense to us, where we live in our power," he said. "Where we believe in ourselves. Where we process what we experienced and our emotions and now know what to do with it."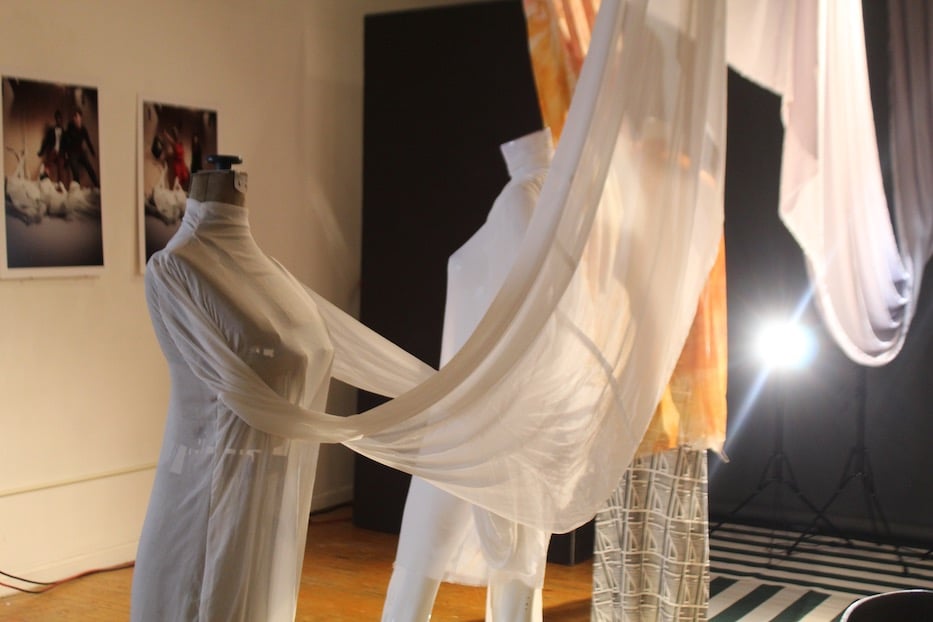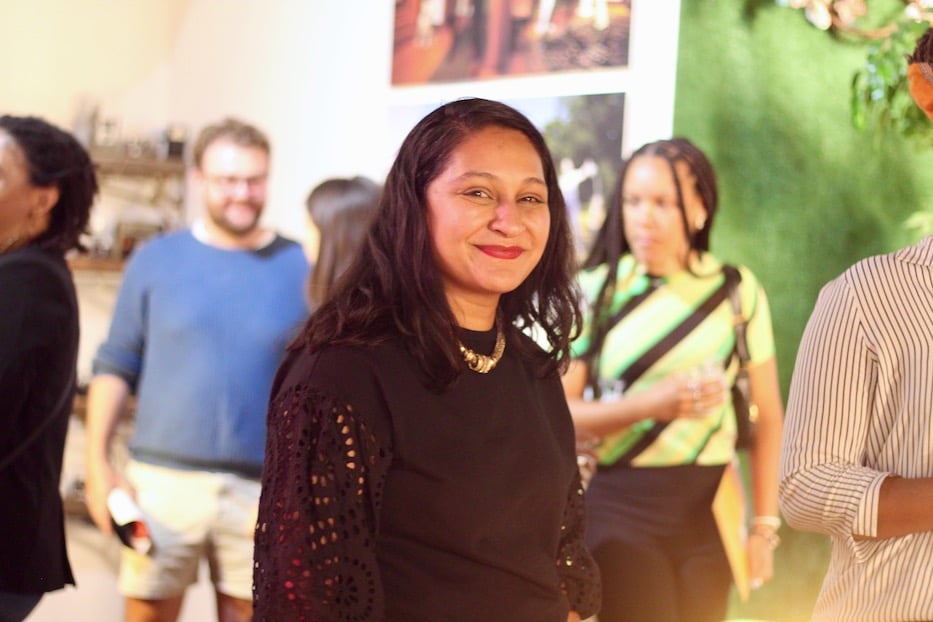 Above: Pieces in Clarity. Below: Meghan Shah.
When he premiered the collection last Saturday, attendees buzzed from room to room, pausing to study photos of models hanging on the walls and admiring the craftsmanship and cut of the clothes, the drape of the fabrics as they sat on their mannequins. Below, a group of friends gathered around the raincoat and exchanged their notes. Behind them, contestants posed for the Steady against a lush, mock-wooded backdrop click and snapping Sinquefield's breech.
One floor up and just beyond DJ Dooley-Os Studio, the contestants admired a flowing oxblood shirt, delicately embroidered cape and black jumpsuit with scalloped sleeves and a deep, sensual V-neckline. The cloak at the end of the hallway was an eye-catcher: the participants gaped at it, counting the delicate, accordion-like folds and the distribution of orange, pink and red on its surface. Some of the pieces from the Heroes Collection can be seen in Montgomery's video for Pay Me, released in conjunction with the exhibition.
Together the garments tell the story of an artist who finds and then finds himself again and then goes back to discover what he didn't know before. He has added both a distinct style and a nod to other designers to craftsmanship, in a list that appears to include Willi Smith, Kenzō Takada, Hassan Alfaziz Iddrisu, and Ruth Carter, among many others.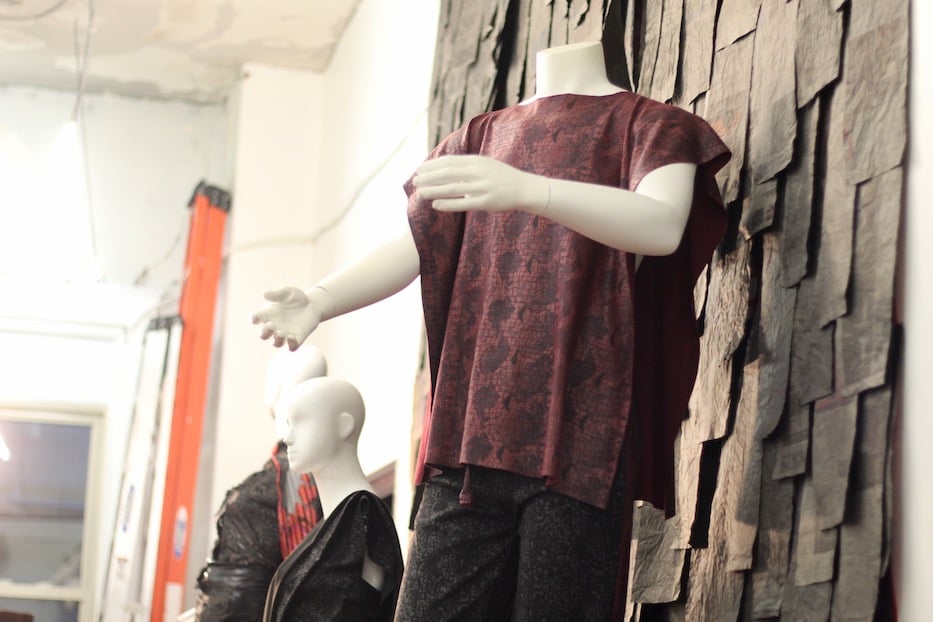 Pieces in The Heroes Collection. Lucy Gellman photos.
They also talk about Montgomery's detailed process and his interest in sustainable fashion as a lifestyle choice and as a way to "inspire and uplift," he said. All of the work in ETHOS is one-of-a-kind, using fabrics he has collected around town, in the state and on his travels far beyond Connecticut's borders.
His flowers, for example, are from his time in Philadelphia. He has fur and leather lengths from New York, cotton and linen from India and Thailand, intricate designs from LA. On Saturday he wore a sleeveless summer coat cut and sewn from fabric at the Long Wharf Theater Dock Sale.
In other words, "Everything has a story," he said. He sees his work in part as an antidote to fast fashion, which has become a public health hazard, environmental stressor, and significant source of CO2 emissions.
He added that the show is a launch pad for what's next. A year ago this month he quit his job as leader of the JoS. A. Bank Store in Milford to pursue his career in fashion and design full-time. In the 12 months since then he has been there several fashion shows, experimented with new designs and created ETHOS as a 'living collection', meaning he complements it as he designs new pieces. Although they are all bespoke, his goal is to have limited edition ready-to-wear collections in the near future.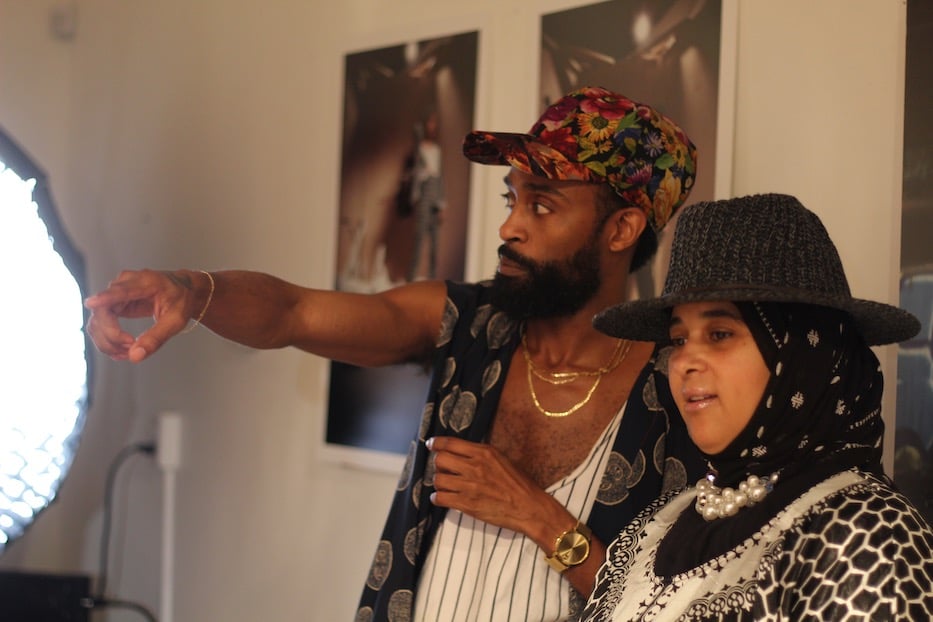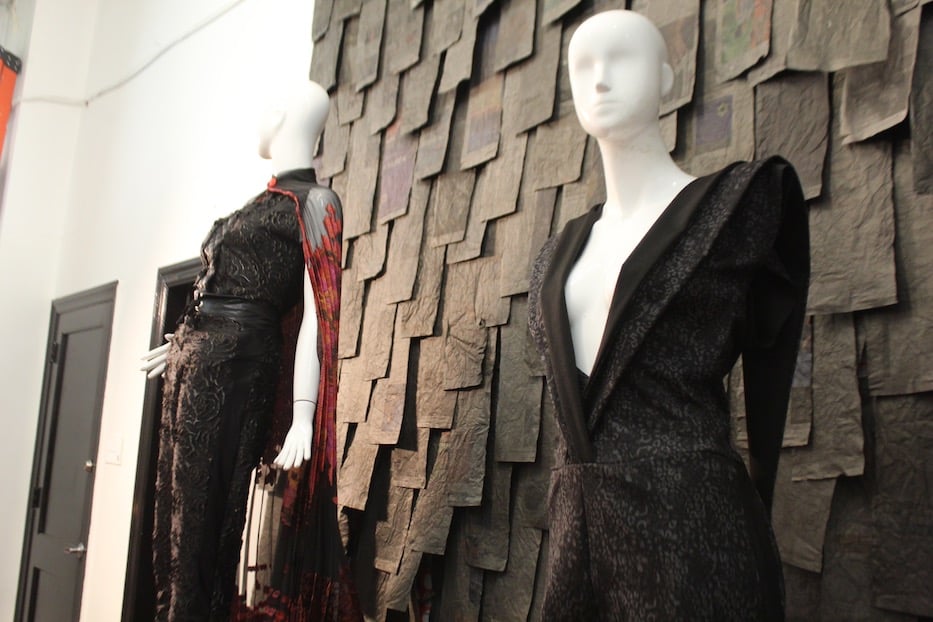 He was able to do this in part with the support of ConnCORP, which awarded him a $10,000 scholarship in 2021 Economic Justice Fund. He also does freelance work, including a design appearance with Town Green Special Services District at their upcoming October 14th night market. He said he's not only grateful for the chance to do the work he loves, but also for the immense support he's received.
"We've been working on this for years," he said. "It started as a seed, and all roads have led to this moment. It took me a long time to figure out what my goal is and what my thing is. And now I feel like I'm finally living in it. I am finally able to exercise my power."
Above, Roberts said he's just as excited to see Montgomery thrive – and lift other artists around him as his star rises. The two first met ten years ago after Roberts noticed Montgomery's presence on Twitter (they both grew up in New Haven; they're five years apart). He recalled attending Montgomery's first event and knew even then that he wanted to follow him wherever he went next. The two have kept tabs on each other as both have expanded their cultural work in New Haven.
"Tea is an artist and I'm excited to see his growth," he said. "People see out New Haven does this really cool. i love my city It's brewing right now."