$125,000 is available through the grant program funded by Pandemic Aid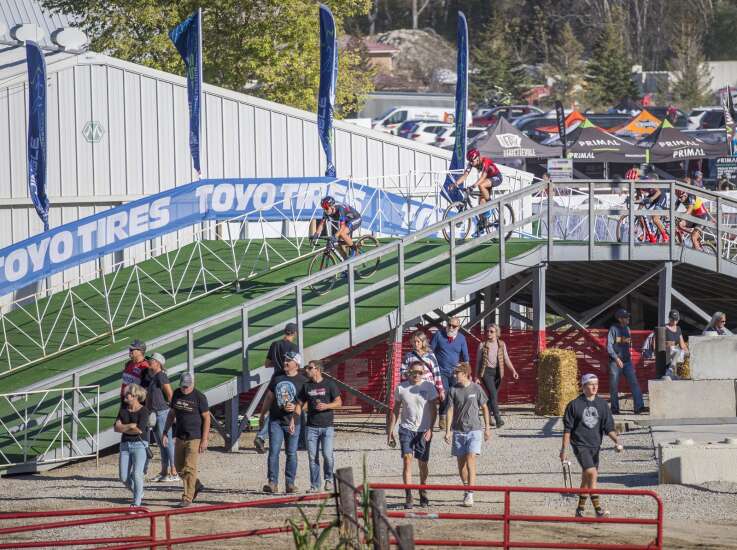 Cyclists cross the bridge during the 2021 UCI Cyclocross World Cup Iowa City: Women's Elite Race at the Johnson County Fairgrounds in Iowa City in October 2021. (Savannah Blake/The Gazette)
Think Iowa City President Josh Schamberger stands on the roof of the Xtream Arena at Iowa River Landing in Coralville. (The newspaper)
IOWA CITY — Events and initiatives that encourage economic activity in Iowa City could get a financial boost from a new grant program funded by pandemic relief funds.
The City of Iowa City is partnering with Think Iowa City to administer a tourism and visitor empowerment program designed to boost economic activity in the city. A total of $125,000 in American Rescue Plan Act dollars is available through 2026.
"The travel and tourism industry is obviously one of the hardest hit sectors by the pandemic," said Josh Schamberger, president of Think Iowa City, in a statement. "This is a great use of ARPA funds to stimulate new economic activity from visitors to Iowa City."
The Iowa City Council voted in June to use the funds for tourism and visitor recreation grants. Another $125,000 will be used to replace hotel/motel tax revenue that would have gone to Think Iowa City but was lost during the pandemic.
Application for the Iowa City Tourism Grant Program is open to both nonprofit and for-profit groups. Applicants do not have to live in Iowa City, but all events or programs must be held within the city limits.
The scholarship program will provide a "direct return to the tourism, hospitality and community of Iowa City," Schamberger previously said.
"It will amplify and ignite some of our most distinctive festivals and events, but we will also use the program to incubate and incentivize additional opportunities," he added.
Up to $30,000 is available for new events and up to $5,000 for existing events or initiatives. Funds can be used for specific reimbursable expenses, including marketing, advertising and infrastructure.
The grant can fund up to half of qualifying expenses.
The application is available online at ThinkIowaCity.com/IowaCityTourismGrant. Applications are reviewed monthly.
The funds are available until 2026 or until they are exhausted.
Comments: (319) 339-3155; [email protected]