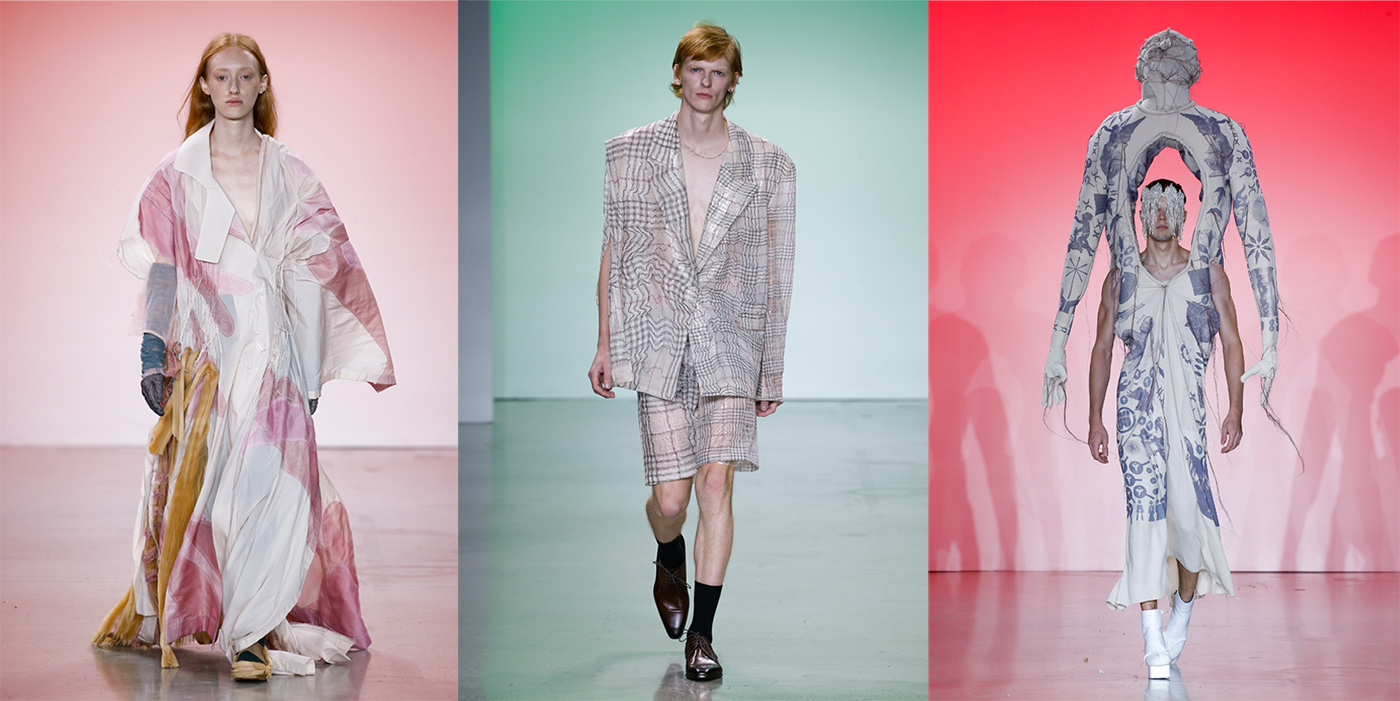 MFA Textiles and MFA Fashion Design and Society celebrate graduates at New York Fashion Week
Spring Studios recently welcomed graduates of the 2022 MFA Fashion Design and Society program with a runway show showcasing the work of 15 designers representing the next generation of American fashion, with collections exploring gender and body, creative reuse and sustainability dealt with speculative futures and world creation. The presentation also included graduates of the MFA Textile program, which featured 4 designers whose work highlighted and explored issues related to culture and identity, sustainability and material innovation, and decolonization.
The show was directed in association with IMG and produced by Beyond8 Productions and creative director Dario Calmese. Hair was by Gary Baker and UNITE Haircare, make-up by Claire Perez. Advertising support was provided by The Hinton Group.
"I'm thrilled to have celebrated the graduation collections from MFA Fashion Design and Society Generation 11 and select graduation work from MFA Textiles Generation 3 at New York Fashion Week," said Ben Barry, Dean of Fashion at Parsons. "On display was wild creativity, a multitude of aesthetic possibilities, and a deep foundation in design from narratives and manufacturing practices that heal and transform the world—all examples of the teaching and learning that takes place in our School of Fashion and Parsons programs . "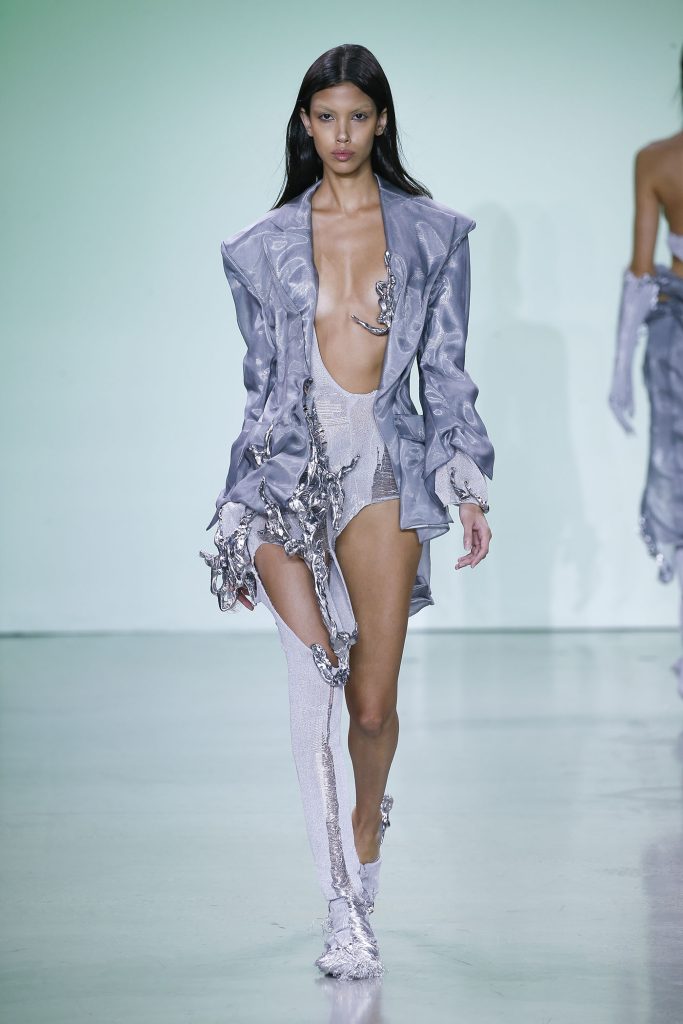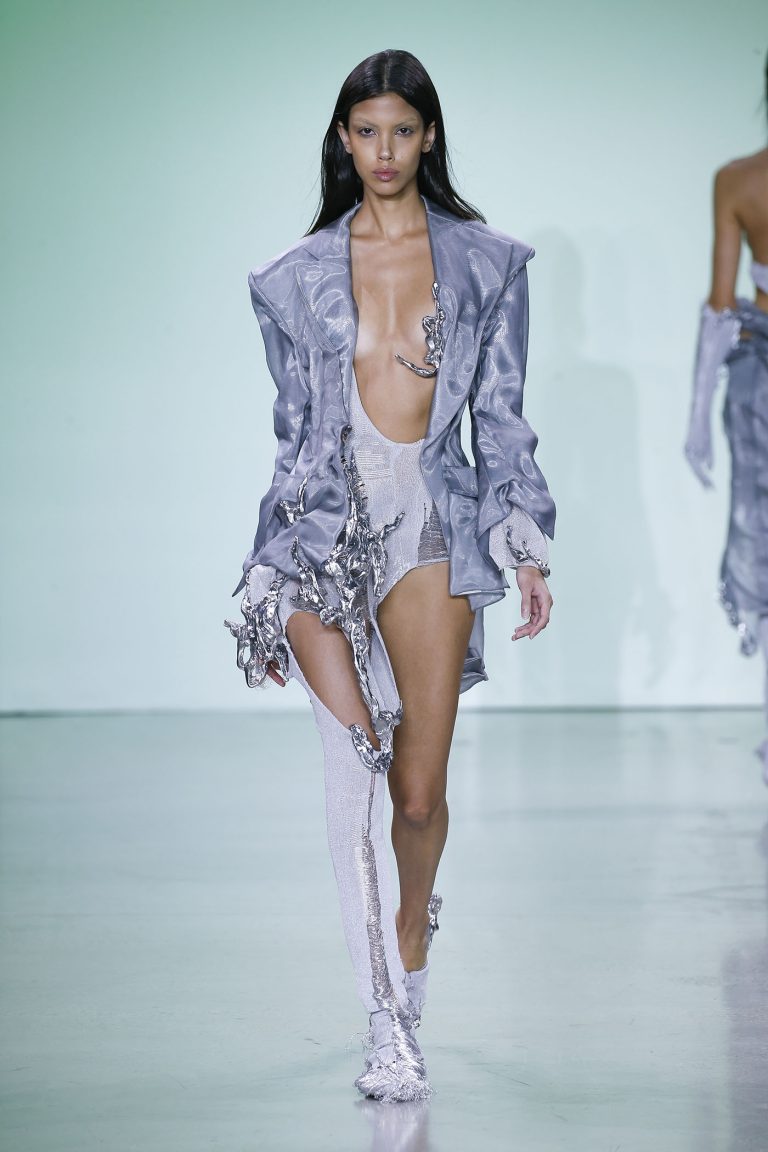 WeiRans work combines digital techniques and handwork to reinvent normal objects in the world of fashion design. Her goal is to create a new visual language through digital manipulation and textile experimentation, to construct new visual elements and to blur the lines between physical and virtual worlds through fashion.
With her dissertation collection Eva Heugenhauser aims to take a critical look at the concepts of time and value and therefore proposes an abstract and innovative understanding of a sustainable approach to design, developing her own ephemeral textile, combined with a focus on a strong passion for tailoring and pattern making.
In her master collection Marlene Hase explored the social and historical context of cotton garments. In her collection, she worked with original fast fashion garments that entered the US market illegally and reworked them in terms of their value system. With her collection she wants to open a discussion about the value and work of the most popular garments: jeans, trench coats and jersey sweaters.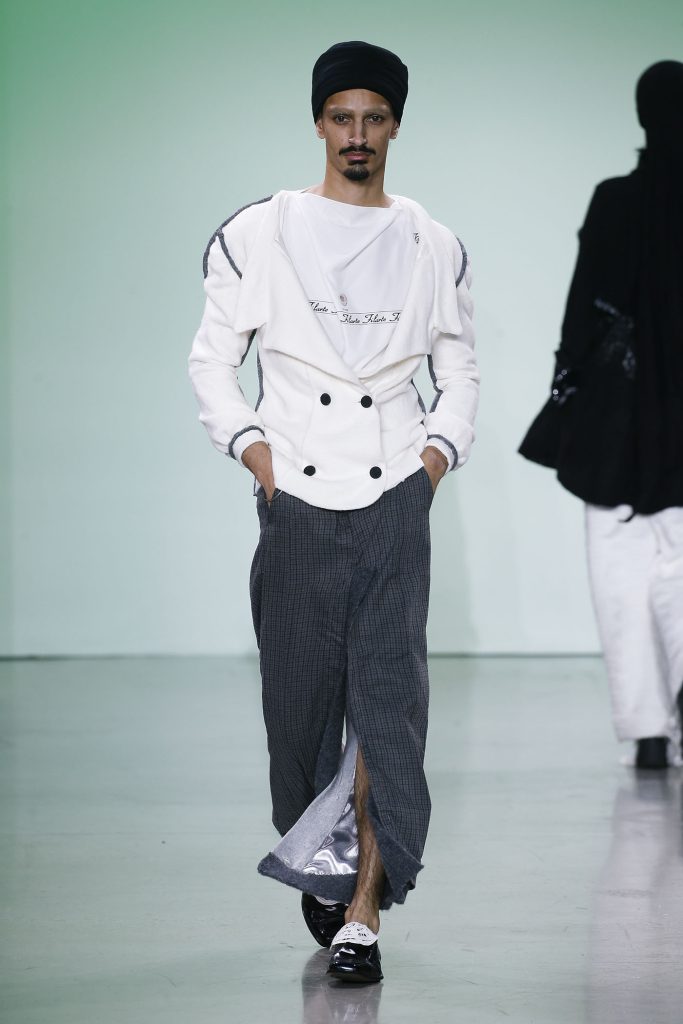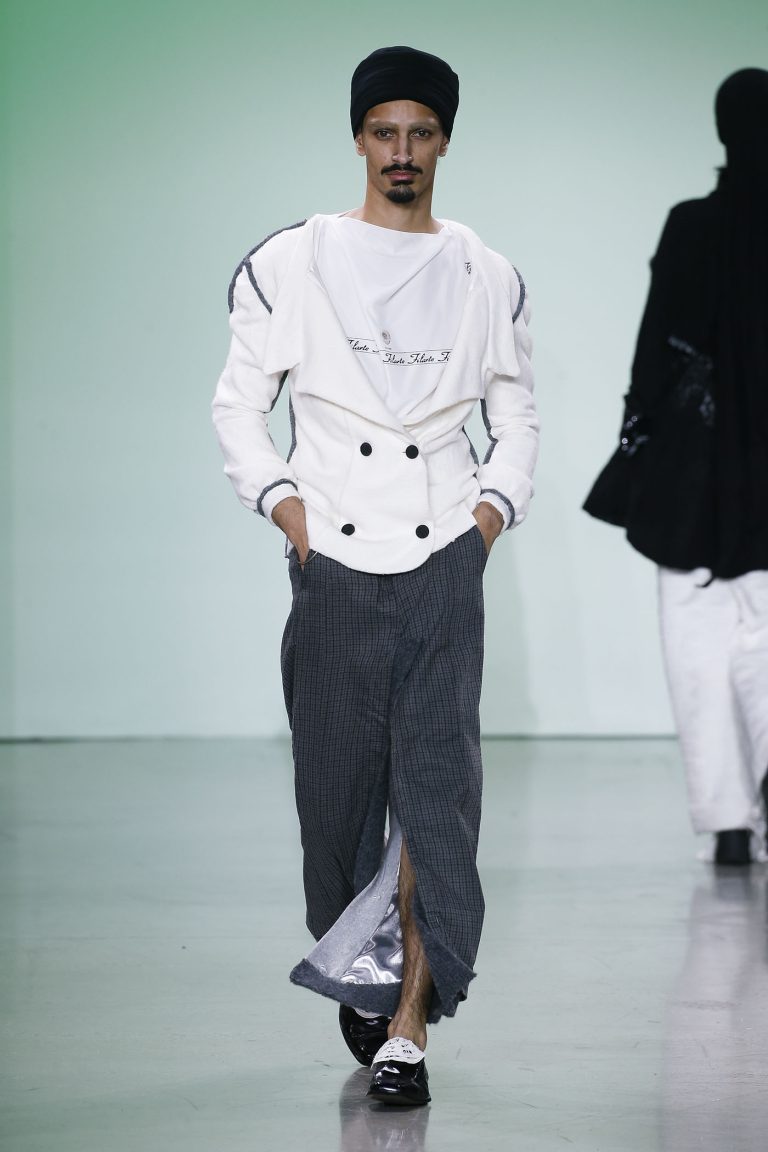 Corresponding Lila Ferdi, "I have always collected fabrics, scraps and garments to work together into a final canvas. This collection is not and will not be in the future, but rather will be manifested through a 'system' that involves designers, manufacturers and consumers as a whole, so that we understand clothing and how it moves in harmony with our bodies and our lives ."
Zhiqing Zhang (Qing), also known as Princess of Chinatown, is a multidisciplinary artist and fashion designer. Born and raised in southern China, Qing's upbringing has had a major impact on her work. Qing's artistic practice integrates multiple fields including clothing, makeup, styling, film, performance and more, while most of Qing's work focuses on exploring gender, sexuality, self-expression, body image, identity and LGBTQ community culture.
Ying Feng's The collection of theses is a reflection on a society deeply rooted in patriarchy. From advocating sex work to celebrating girlhood, Ying presents these themes through a range of craft techniques including crocheting, beadwork and working with upcycled garments. Ying has a background in visual communication design and enjoys working with multimedia such as video and book. She is also the founder of Club Innocent.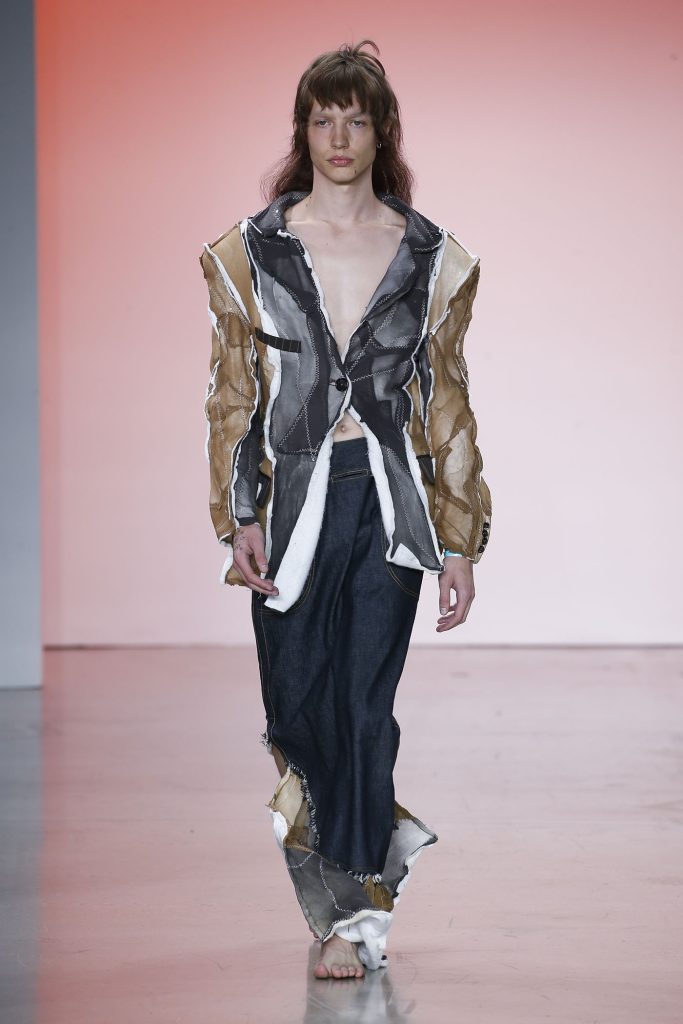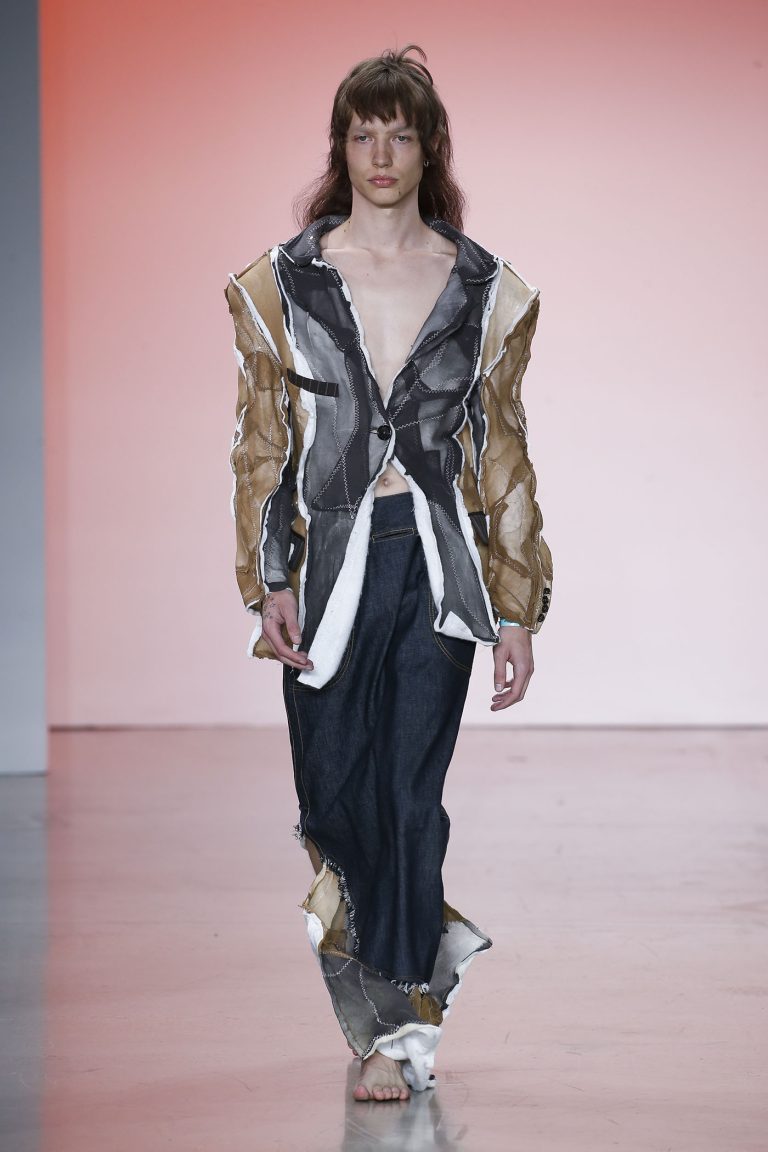 "Growing up in different counties in China, different cultures and identity formations and transformations cause me gender confusion as a girl due to a male-educated background," she says Tao Li. As a fashion designer, it is therefore important to reflect on past-present-future thinking in order to emotionally and directly reveal my trauma through fashion as art therapy. Show my insecurities to make me feel safe."
"Having joined Parsons, I want to expand the definition of connecting with the audience and keep the concept simple because I hope the end product can explain the idea on its own so that people can understand and enjoy it," she says Meng Ling Chung. "That's why in my recent work I want to use playfulness as a bridge so clothes and people can interact to create memories. This intention is the same as our DIY works when we were young; Even if it is not perfect, it will still be preserved. As a designer, I think I'm creating a mechanism that allows people to change the shape of clothes with their own ideas and simple manipulations. I create a shape and the audience brings it to life."
Sarah Hawes' MFA thesis does not fall within the typical framework of a fashion collection. Her work is based on her concerns about the future consequences and implications of the current relationship between science, technology and people. Her project grew out of ethnographic research and her personal unease at living in a generation where there is world chaos in all directions at all times. She began her research by capturing the DNA and lived reality of undocumented and unnoticed everyday moments in everyday life, and combined her essence with her own experience to create a collaborative approach to design.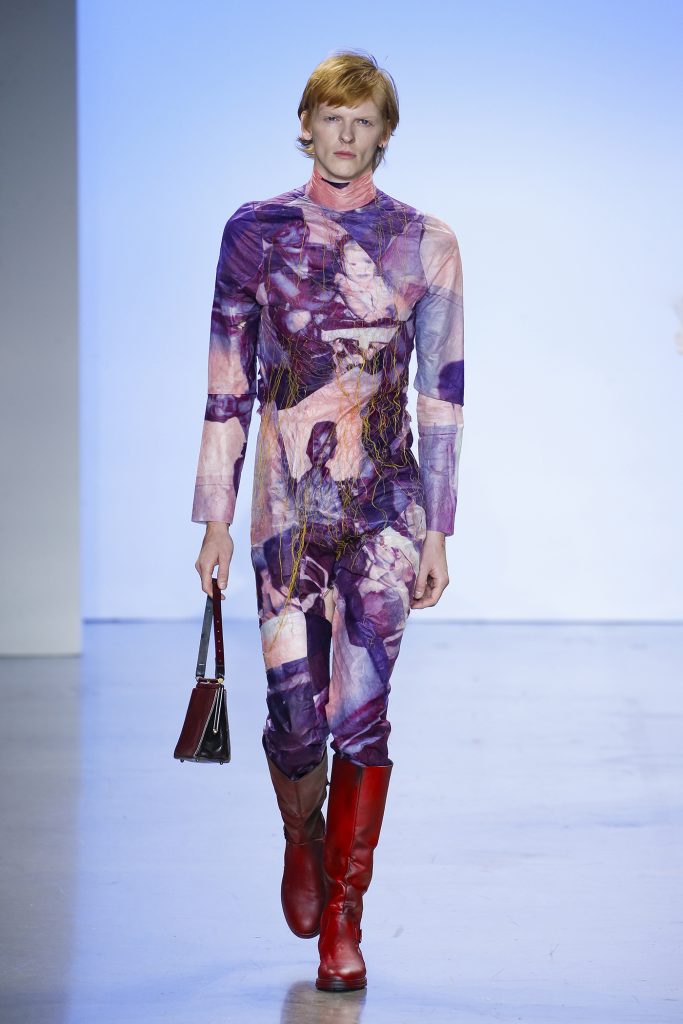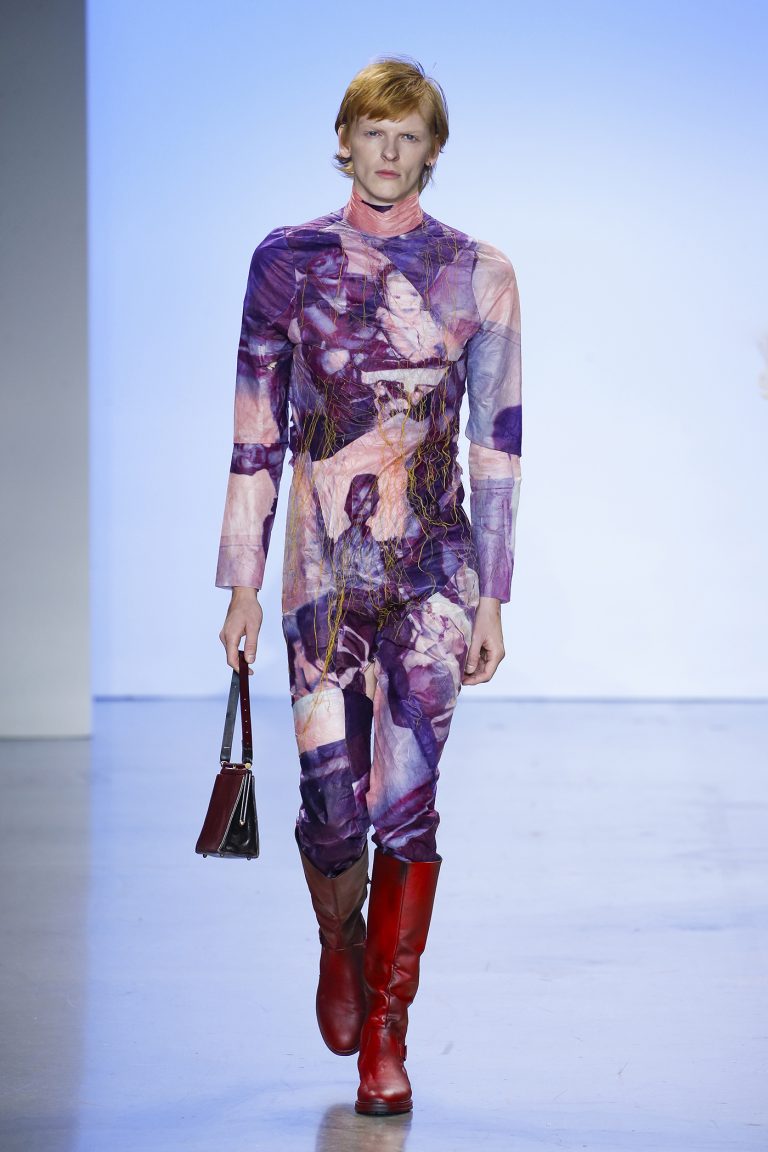 Despite fashion collections, Anna Zhangs The work also includes textiles, installation art, paintings and films. She enjoys exploring the relationship between the human body and the environment through various art forms. She believes that fabric is just a commodity, only when it interacts with bodies can it truly become a powerful work. Textile is the key language of Anna's fashion work. She has mastered various textile technologies such as knitting, printing, dyeing, embroidery, etc. She always tells her stories by exploring the creative and sustainable material.
Alexandra Petina is a Russian designer. After receiving her BA in Moscow, she traveled to London to study at Central Saint Martins, choosing New York as the final destination of her academic experience. She has a multidisciplinary approach to fashion as body-scale imaging and appreciates the variety of tools and multimedia aspects of fashion design.
Xiaomo Chen is a knitwear designer from Taiwan specializing in computer programming/knitting. "My research begins by studying 'post-human' and focuses on 'situated knowledge', meaning that different perspectives would lead to different definitions. The term is most commonly used in perspectives emerging from social constructionism, radical feminism, and postmodernism to emphasize their view that absolute, universal knowledge is impossible."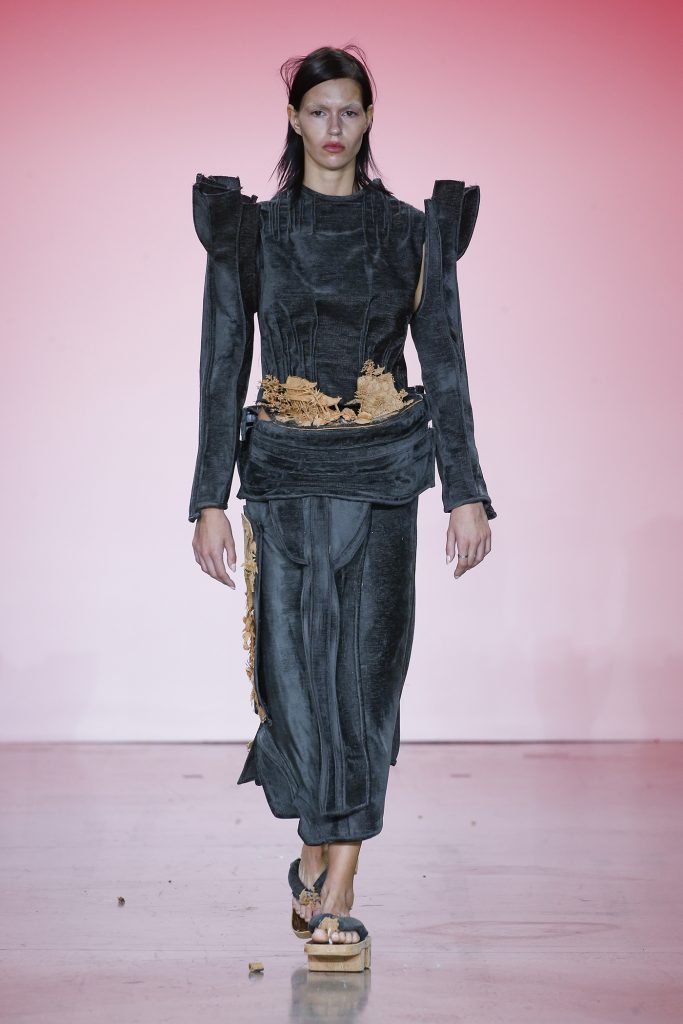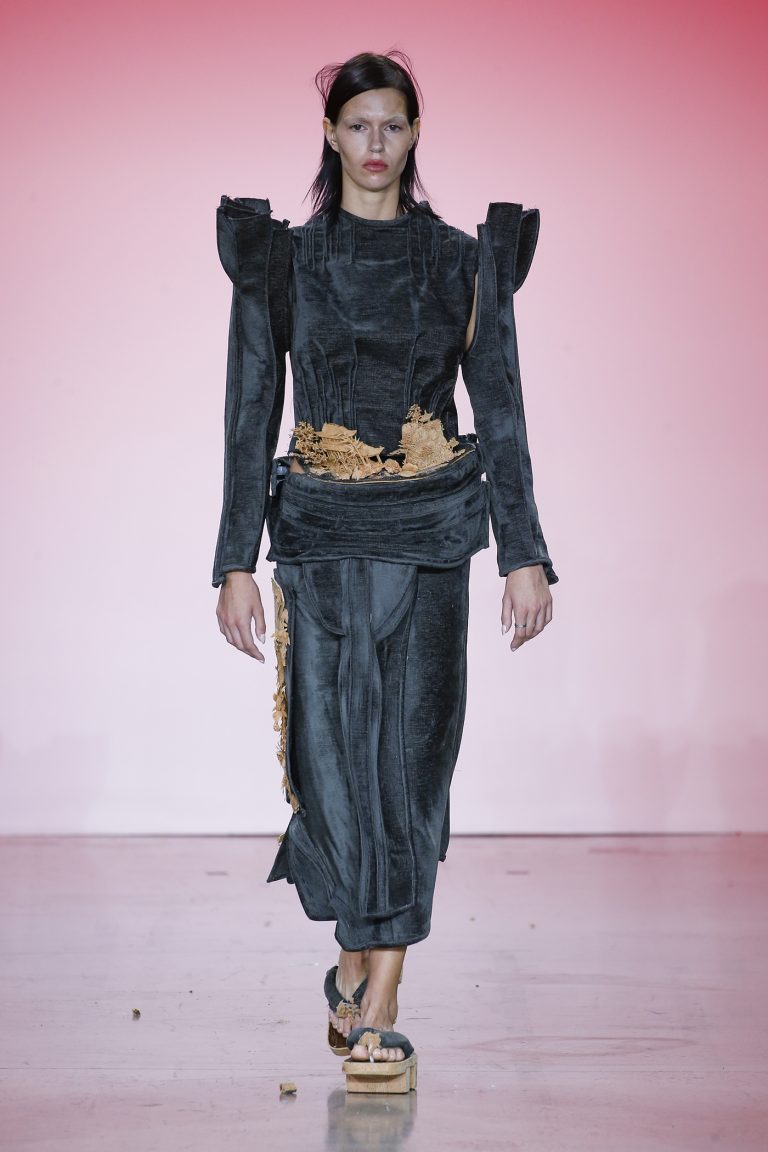 Corresponding Rui Yu Zheng, "For my project, I want to integrate traditional Chinese handicrafts and furniture into fashion in a new way. I hope my collection goes back to a level of craftsmanship, each piece has a unique texture and emotional content. Combining furniture elements and garment structures, I found the collection's silhouette to express my story. And I hope that my story could bring fashion as a human connection closer to the application of craft, which is a very emotional craft through objects.
As a fashion designer Liu Liu sees fashion design as a tool to respond in a variety of ways to the notion of an authentic self. Her works relate to the exploration of the intimate relationship between emotions and garments and the conformist phenomena of dressing and defining clothing through gender-neutral fashion. She hopes her work can change people's stereotypical thinking.
Asato Kitamuras Parents believed in a religion called Nichiren-Shoshu in Japan. He grew up surrounded by beautiful things like religious sculptures. However, his parents' relationship was weak, and there was always a dissonance in his home. His imagination was born in an environment where dissonances caused by people's negative emotions and prayers to God were always mixed. In graduate school he devoted himself to the philosophies of Freud and Nietzsche, weaving his own experiences together and exploring the validation of trauma and the value of imperfections. For him, fashion is a ritual that sublimates the pain of life in elegance.