The world has struggled with peace in recent years. From reports of war crimes in Ukraine to coverage of a fatal shooting at a school in suburban Detroit, it's easy to feel that few people in Isabella County can do anything to respond to the troubles.
That Isabella County Human Rights Committee wants to help people feel empowered to make change.
A step towards that goal was hosting the Let Peace Reign event at Island Park on Saturday September 17th to celebrate international day of peace, which landed on Wednesday September 21 of this year.
Community members from across the county came to participate in the park's peace walk and other activities such as arts and crafts and a raffle. Food vendors were in attendance along with local museums and libraries.
New this year was the Human Library, which invites people to serve as "books." Each book voluntarily tells his or her personal story. Elizabeth Husbands, chair of the Isabella County Human Rights Committee, says the committee invited people who have spent their lives speaking up for human rights, which serve as books. Instead of going to a library to read about activism, people at Let Peace Reign had the opportunity to learn from activists themselves.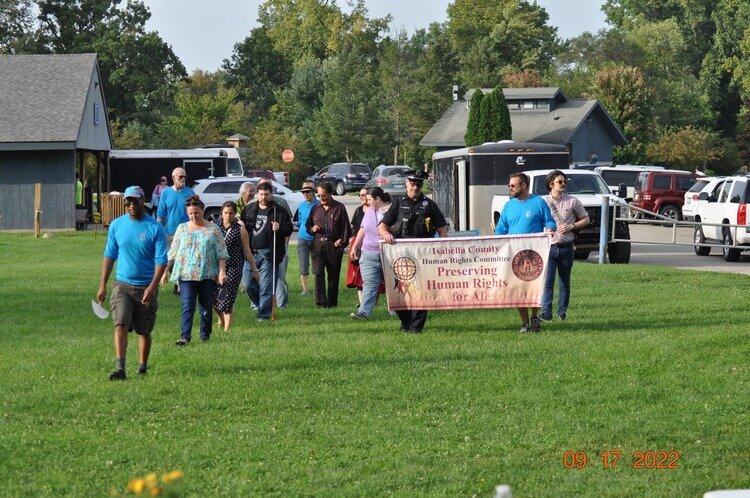 Mt. Pleasant Police Officer VanDyke and County Commissioner Steve Swaney carried the banner that carried the Peace Walk through Island Park during the 2022 event. (Photo courtesy Isabella County Human Rights Committee)Another committee member, Shelly Smith, says the Human Library is a way to connect with people's stories. The goal is to build more empathy and let people interact better.
"Human rights are important, and the international human rights organization uses this national day of peace to celebrate and commemorate human rights, and as the Isabella County Human Rights Committee, we felt it only appropriate that we do something about it, too." Husbands adds .
While the main goal of the event was to promote peace, it also served to spread the word about the committee and its work throughout the community, says Husbands.
Another visible project that the committee tackled was the creation of disabled parking spaces in the city center and the construction of shelters at bus stops. Even after people have seen the parking lots and shelters, they may not know what the Human Rights Committee helped secure these facilities or which committee members are serving individuals.
"They don't know that the Isabella County Human Rights Committee is here to listen and speak up for their rights," says Husbands. "We can speak to district commissioners on their behalf if they feel they have been wronged."
Smith joined the committee about two years ago and wanted to get involved in the human rights movement here in Isabella County because she has always been interested in the issue and thought it was time to do something.
"I appreciate them being here in our community and I wanted to serve in that capacity," says Smith.
dr Maureen Eke joined the committee because she is a human rights scholar, activist and educator. Eke says that in part because of her background, she is committed to upholding human rights and human dignity. She grew up in Nigeria and lived through a civil war as a teenager from 1967 to 1976.
"I am a survivor of genocide, of civil wars my people did not foresee, and my people were massacred. I am a genocide survivor. I don't know how to see myself outside of the fight for human rights," says Eke. "I joined because I believed I could help make this county a peaceful, welcoming, and inclusive place where people's rights are protected and their humanity and dignity preserved."
Eke compared her experience in Nigeria to what is happening in Ukraine.
"We woke up one morning and were bombed," says Eke. "We couldn't go to school. They bombed villages, they bombed schools, they bombed hospitals, they started using food as a weapon of war, communities were attacked, they invaded our communities, raped women, raped young girls, killed us and burned places."
Let Peace Reign provided an opportunity for Isabella County to speak and reflect on peace locally.
"I think we should all be interested in this event because it gives us an opportunity as a community to come together for a few hours and do nothing but think about how we cultivate peace in our community, live in peace with each other and about reflect on our own contribution to making peace possible," says Eke.
More information about the The Isabella County Human Rights Committee and its activities are available on Facebook.