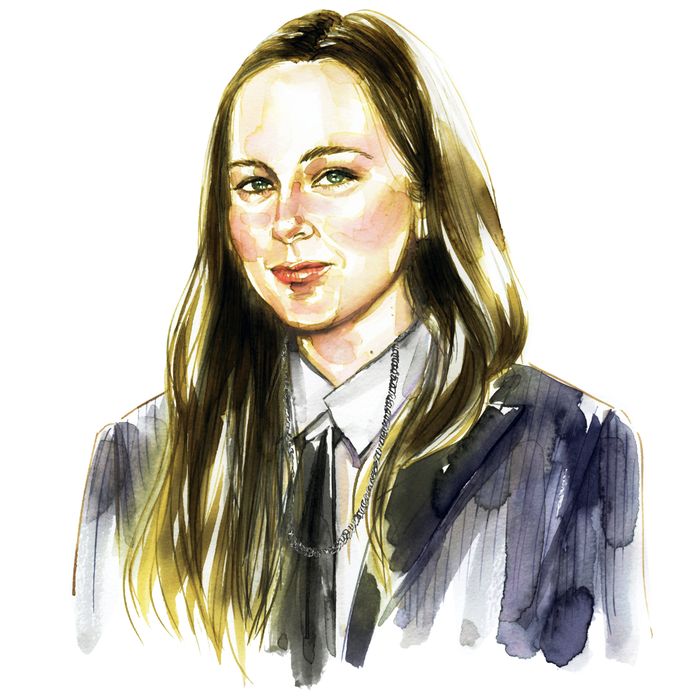 For this fashion week special of How I Get It Done, we ask successful women how they are shaping their careers and lives during this busy time of year.
If you're a fan of menswear, chances are you've come across Willa Bennett's work – and then one of many Photos of her with a tie. A Forbes "30 Under 30" honoree and the first woman to lead the social team and strategy GQ Magazine, the 27-year-old is now Editor-in-Chief of Highsnobiety, a global fashion and lifestyle media brand.
Before joining the GQ team, Bennett started at Seventeen Magazine, where she launched the brand's queer industry. Since then she has been campaigning for the inclusion of young queer people in the media. Except for the extensive work she has done GQ (like profiling Omar Apollo, Cole Sprouse, Joshua Bassett and Conan Gray), she has written extensively for publications including Elite Daily, Bustle, teenage Vogue, and the Gay Times.
As someone who describes words to her as "like water," Bennett shows no intention of slowing down. She has published two volumes of poetry, "I Think There's Goose Eggs In My Stomach" and "It Always Happens". While fashion week has always been a busy one for Bennett, this year (in her new role as Editor-in-Chief) is setting a new standard. She's attended almost all of the biggest shows — her favorites have been Collina Strada, Fendi, Eckahus Latta, Tommy Hilfiger and Marni — and has appeared at after-parties for Opening Ceremony, Heaven and J. Crew, and hosted Highsnobiety's own , on Sunday.
"Fashion week isn't one size fits all," she says. "Everyone has their own relationship with fashion and their personal style and the way they go about it. The main thing is that it's fun. It's such a privilege to be there." That's how she does it.
On a typical day during Fashion Week:
I wake up around 5:30 am every morning. I make overnight oats and eat them in the morning while drinking my coffee. I read the news and check all social platforms. My mornings are when I'm relaxed. I can reflect on what I hear and what's going on in the cultural zeitgeist; it is grounding for me. Then I make my way to the office. Shows usually start in the early afternoon, so I leave the office, watch a few shows, grab a coffee or lunch, come back to the office to do a bit of work, and then go to the other shows. I try to be super present during fashion week. When I'm at a show I'm really in the moment and I'm conscious of my time and energy and I'm observing everything about the show. I'm always interested in what happens after the show, so I try to stick around to see where people are going and what they're saying. If other fashion journalists or close friends of mine are there, we go together or we meet up afterwards.
Stay healthy during Fashion Week:
I was a ballerina dancer for many years, so I'm very conscious about drinking water and making sure I eat three meals a day, including during fashion week. Even on some of my busiest days, going for walks and all that stuff is really important to me. If there's a show at the office, I try to go there and listen to music.
When deciding which shows to attend:
I've always been interested in fashion, from the way I dress to the brands I edit to the shows I attend. Rather than attending just to attend, I go to brands I want to build a relationship with. But I also look forward to being surprised by shows. Before fashion week started, all the staff gathered in one room and we talked about our current position – where we want to go with this, what we want to say, what types of brands we support – and it was a collaboration and brainstorming by so many amazing young people People with such different points of view and it's my job to represent that.
When choosing what to wear:
I've always loved fashion. When I was little, I cut out men's fashion magazines and pasted them on my wall, almost like paper dolls. I try to walk home from work every day along the water and that's when I have my most exciting and innovative thoughts about fashion. When I wake up in the morning I really wear what I want to wear depending on what I have to do that day and how I'm feeling. I see it as a means of self-expression.
Stay Organized:
i use my phone I write a lot in a diary. I have a number of notebooks that I use, but I'm actually very strategic with my time. If that means getting up at 5am or 4:30am on more stressful days, then I do that. I think after becoming a ballet dancer I can really do anything.
What excites you about fashion:
The tension between youth culture and the fashion industry interests me the most right now – brands that have a say, brands that have a unique point of view, brands that resonate on social media, and brands that have a community around them. It's so exciting to see and hear so many young people talking about fashion. I love it when people get off a show and flock to a bar across the street. At last fashion week everyone was drinking tequila soda so I'm excited to see what the drink will be this year and what else people like like ordering certain dishes and Instagramming certain places. For me, it's all about the community and the conversations, just like the actual shows. I think a chat in a bar after the show is just as much a part of the story as the show itself.
This is what a successful fashion week looks like:
Successful is a harsh word, but for me fashion week has served its purpose when it hits the zeitgeist.
About the downtown scene:
I moved to the West Village last summer and it was great for me to live in Manhattan for the first time. I've been to Fort Greene before and loved it, but there's something exciting for me to be in downtown Manhattan and to be part of the cultural conversation in a new way. I write in a lot of different bars and restaurants and I just watch people and it's so interesting to see the types of conversations people have, the clothes they wear, the way people relate to each other contact. I feel like moving to Manhattan has changed my worldview in writing.
How she relaxes at the end of the day:
I like to write. It really is like drinking water for me. So I will keep a journal to channel my ideas and articulate bigger ideas. I put them somewhere so I can remember them and keep them sacred, have them in one place. It's all about organizing my thoughts. Having everything in one place is important to me. One of my favorite writing mentors always says, "All good writing is paraphrasing," and I think that's true. If you can write down and organize your thoughts, there is always something there.