"Writing a memoir is reliving a lot — reliving, re-evaluating, and re-evaluating different moments in my development," says Moshe Safdie. Reflection comes first for the 84-year-old Israeli-Canadian-American architect, who spent his COVID-19 lockdown writing his book, released today. If walls could speak: My life in architecture,, which reads like a memoir travel journal manifesto for responsible, thoughtful design.
The architect has been designing innovative, sustainability-focused, socially forward-thinking projects for five decades, beginning with his McGill University engineering graduate work, Habitat '67, an exploration of the future of factory construction that still exists The architect's silent disbelief – was built in Montreal as the Canadian Pavilion for Expo 67. Since then, the former apprentice of Louis Kahn, former director of the Urban Design Program at Harvard University Graduate School of Design and lifelong professor, has pursued the design of buildings such as the National Gallery of Canada, the Yad Vashem Holocaust History Museum in Israel, the Crystal Bridges Museum of American Art in Arkansas and Jewel Changi Airport in Singapore. What unites them all, however, is not a particular style, use of glass or geometries, or a material lust: each Safdie Architects project has been designed for the benefit of its users and their surroundings.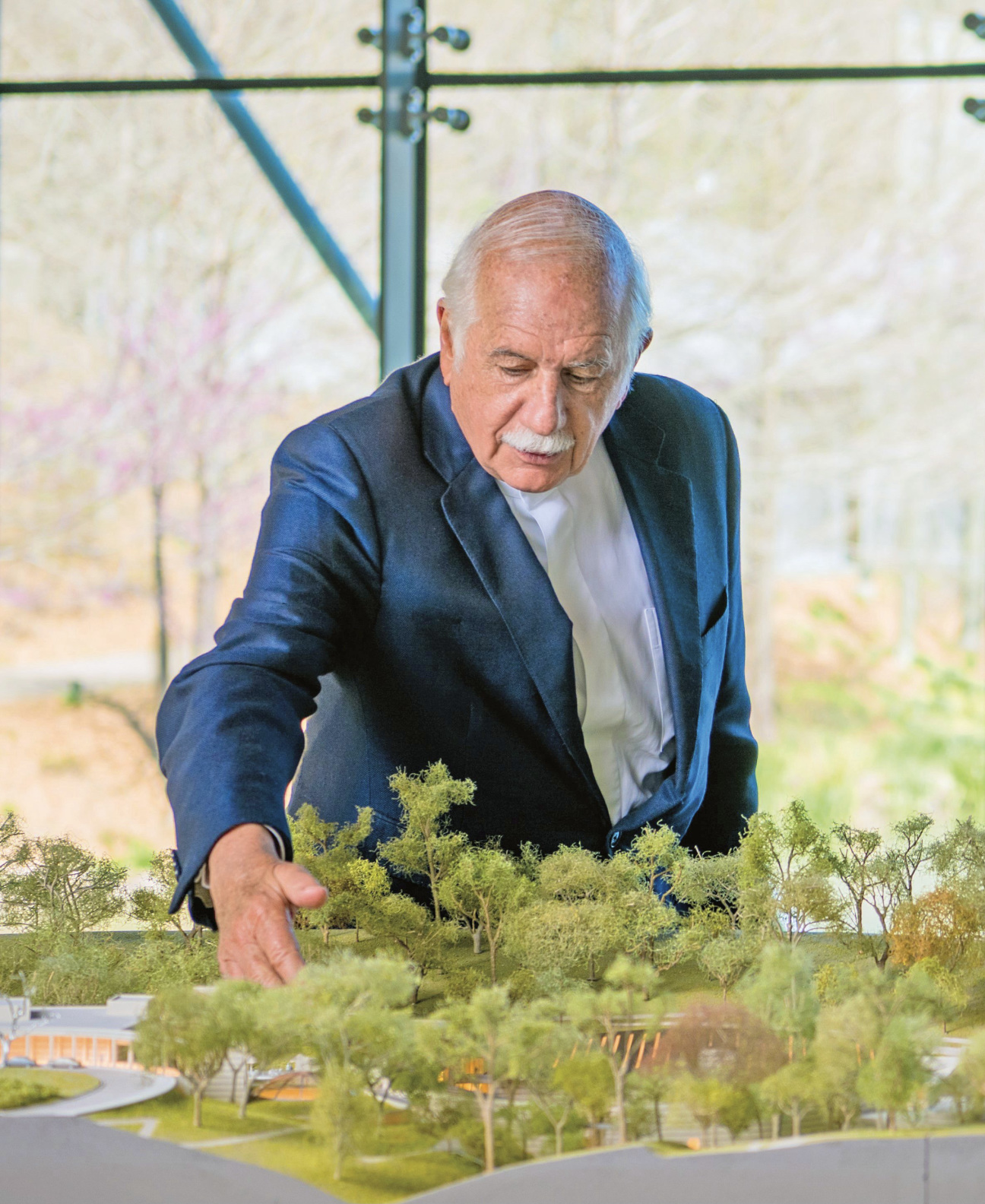 Safdie is a star architect in all definitions of the word, and yet in all its connotations he is not. He avoids the appeal of contemporary practitioners' penchant for "sculptural self-expression" made possible by new digital design technologies – technologies which, like almost all global design studios, he also uses in his office – claiming that "the environment that produces this kind of iconic, never-before-seen all-is-a-new-invention design is very contra-Darwinian." Rather than focusing on propositions, he believes architecture should "evolve and incrementally improve" with each project. With mainstream industry conversations about environmental design reinvigorated, Safdie hopes "we'll 'erase' the desire to declare ourselves in the structure.
It is the modesty that characterizes Safdie in his demeanor and approach to architecture. He attributes this to experiences in Jerusalem, where the architect worked for many years of his life, and in Canada, Singapore and Boston, where he currently resides, runs his studio and teaches at GSD.
"It taught me that you have to be extremely attentive to the culture – the tradition of a place. It's actually a kind of special humility. You accept it as worthy," he explains of Israel's capital, a holy city for followers of the three Abrahamic faiths and a place with a truly ancient history. "I think some of my colleagues came to the historic city and just did their own thing. Total contradiction is a kind of arrogance. Jerusalem healed me from it." Safdie was born and lived in Haifa, British Mandate Palestine kibbutz before moving to Montreal in 1953 at the age of 15. To cushion the blow of leaving the only home he ever knew, his mother took him and his siblings to Rome, London and Paris before firmly planting them in Canada, where his father had already begun to rebuild their lives build up. These trips were a grand tour of sorts for the boy and an introduction to the world of design and culture, where diversity is a big part of attraction. His curiosity for geography has guided his work ever since.
"You can build contemporary buildings that still feel belonging and rooted, which is always more satisfying," explains the architect of how he designs in any context. Raised in architecture at the same time as postmodern greats like Philip Johnson and Frank Gehry, he sees his work as a "counterpoint" to them -ism Designer, however, claims that Gehry is a close friend nonetheless. (Johnson, revealed in the new book, stopped sending out invitations after Safdie wrote a scathing review of his 1984 AT&T building in New York.)
Personally, Safdie is warm and purposeful in conversation. He is enthusiastic about discussions that challenge the status quo of the design world. After all, in his opinion, one of the core ideas of his job is to constantly strive for innovations in the processes and systems in which one works. "Louis Kahn used to ask: 'What does a building want to be?' and my interpretation of that is that a building wants to be what it was built to be," he says. Habitat '67 was an idealistic exercise in what a bourgeois housing development might look like, made of prefabricated modules that allow for "one garden for all". Ultimately, the construction technology didn't—and still doesn't—match his design for a modular system that could be contextually reproducible on the kind of mass scale Safdie had hoped. It's a lesson every architect has learned at some point in their career. However, its principles of efficiency and livability are fundamental to the current "green" design movement, where new technologies help to build systems that are sustainable and environmentally friendly. Safdie is also investing in that future, particularly with the idea that adding programmatic gardens to projects will create environments people just want to be in, as inspired by his work in Singapore. Mixed-use projects are also at the forefront of his considerations, as they can bring benefits when downsizing a megacity. Epic Games is currently digitizing Habitat '67 for players to interact with virtually anywhere in the world. Safdie hopes that one day he'll have the opportunity to build a mixed-use version of the project in real life.
As long as his health allows, the architect claims he has no plans to slow down, although he's grateful for the time he's been given to look back on his work and write the stories he wanted to tell. "The best way to appreciate an architectural work is to visit it 25 years later," he says. In Safdie's philosophy, a project is technically successful when it meets its programmatic requirements; Architecture is created when accompanied by a design that is attractive and built to last, creating a sense of well-being for its current and future occupants. Designing for the latter, however, is often still a mystery to him. "It's a mystery," he laughs. "I mean, I know when that's going to happen, but I certainly couldn't write a prescription."
Sign up for the culture newsletter
Sure we can be close friends. Unfiltered access awaits you.