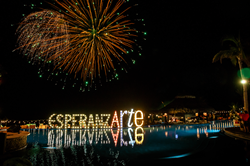 LOS CABOS, Mexico (PRWEB)
September 21, 2022
Esperanza, Auberge Resorts Collection, the legendary luxury beach resort in Los Cabos, welcomes both local and international visionary artists to its curated arts festival Esperanzarte for the fifth year running. The event underscores the resort's commitment to the arts for all ages with various distinctive exhibitions throughout the property. The popular art exhibition will be open to guests and local visitors on November 25th and 26th, 2022, with multiple exhibits on display throughout the rest of the year.
"We are excited to once again curate Esperanzarte this year in collaboration with a handful of Mexico's finest artists," said Marc Rodriguez, General Manager, Esperanza, Auberge Resorts Collection. "From workshops to guided tours, the solid program is perfect for guests with different expertise and interests in art. It demonstrates our commitment to providing guests with distinctive and authentically local experiences."
Pieces from this iteration of Esperanzarte highlight both emerging and established artists at the creative forefront, coming from across Mexico, Latin America and around the world to showcase the property with a selection of their curated work. Participants include Emilio Chapela, Plinio Avila, Edgar Olraineta, Quirarte + Ornelas, Ivan Krassoievitch, Carlos Amorales, Nestor Jiménez, Sebastián Romo, Mauricio Limón, Elsa Louise Manceux and Michael Conrads. Admission to the festival is $120 per ticket and includes light snacks and cocktails from Esperanza's poolside restaurant, Las Estrellas, and other local eateries highlighting traditional Mexican street food.
The festival begins with an exclusive exhibition preview featuring the artists, during which guests will view pieces found throughout the property and have the first opportunity to purchase the artworks on display. Other experiences include a one-of-a-kind Art + Wine Pairing led by Mexican curator and winemaker Sofia Mariscal, an Artful Yoga + Meditation session with interactive performer and artist Tony Orrico, and a painting class for children led by the in Mexico City born illustrator and sculptor Sandra Slim. The weekend culminates in Tony Orrico's signature choreographed full-body drawing performance, accompanied by live music that makes the crowd sparkle and spurs creative energy.
"At Esperanzarte, all guests can honor the finest craftsmanship in the Baja region and beyond," said Regina Pozo, Experience Curator, Esperanza, Auberge Resorts Collection. "This unique art celebration highlights Esperanza's international influence, luxurious presence and local connection, inspired by Auberge Resorts Collection's unwavering attention to guest experience and commitment to inspiring places."
Esperanzarte's unforgettable events are designed to inspire guests to unleash their own creativity and discover something new. The resort's world-class spa, six restaurants, a robust experience and adventure program, unparalleled service and uninterrupted ocean views provide the perfect backdrop for this annual celebration of destination.
For more information about Esperanzarte visit: aubergeresorts.com/esperanza/experiences/esperanzarte-2022.
About Esperanza, Auberge Resorts Collection

The Esperanza, Auberge Resorts Collection is Los Cabos' premier luxury resort in the private community of Punta Ballena. Overlooking two private bays with breathtaking views of Los Cabos' Lands End, the resort offers 59 casita-style guest rooms and 96 sprawling one- to four-bedroom residential villas, offering guests barefoot luxury infused with the spirit of Baja. The resort has six restaurants, including the signature oceanfront restaurant Cocina del Mar with intimate al fresco terraces that tower dramatically over the water; The Spa at Esperanza; four stunning pools, including an adults-only two-tiered infinity pool and a family pool; tennis courts; Access to world-class golf courses and an Auberge Adventures menu featuring land and sea experiences only in Cabo.
For more information: aubergeresorts.com/esperanza

Follow Esperanza on Facebook and Instagram @EsperanzaAuberge
About the Auberge Resorts Collection

The Auberge Resorts Collection is a portfolio of exceptional hotels, resorts, residences and private clubs. While each property is unique, all share an artisanal approach to luxury, bringing to life the soul of the place through captivating design, exceptional cuisine, innovative spas and gracious yet unobtrusive service. With 22 unique hotels and resorts, Auberge invites guests to create unforgettable stories in some of the world's most desirable destinations.
For more information: aubergeresorts.com

Connect with Auberge Resorts Collection on FacebookTwitter and Instagram @AubergeResorts and #AlwaysAuberge
About the Friedkin Group

The Friedkin Group is a privately held consortium of automotive, hospitality, entertainment, sports and adventure companies. These organizations include Gulf States Toyota, GSFSGroup, US AutoLogistics, Ascent Automotive Group, Auberge Resorts Collection, AS Roma, Imperative Entertainment, 30WEST, NEON, Diamond Creek Golf Club, Congaree and Legendary Expeditions. The Friedkin Group is led by Chairman and CEO Dan Friedkin. Visit http://www.friedkin.com for more information.
media contact

Murphy O'Brien PR

[email protected]
###
Share the article on social media or via email: