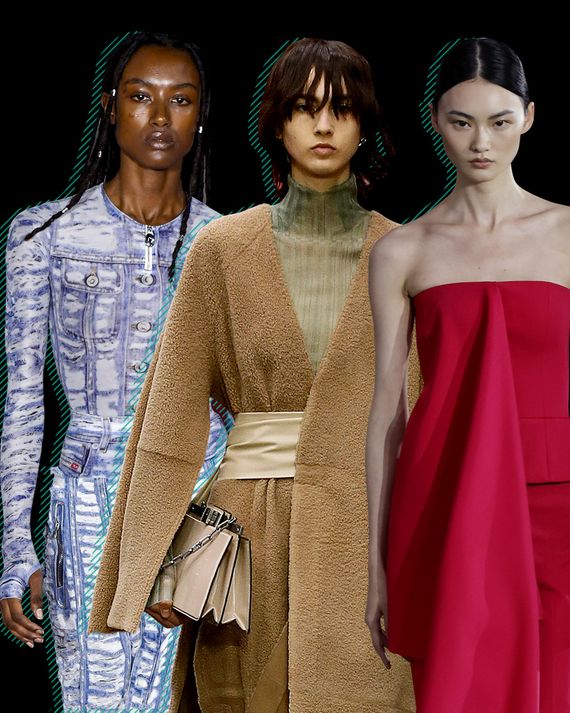 Photo illustration: The cut. Photos: Victor Virgile; Courtesy of Fendi; Valerio Mezzanotti
Kim Jones, who recently brought Fendi to New York for a big show – paying homage to the ultimate "it" bag, the baguette – was back in Milan for the Roman house's Spring 2023 collection. On Tuesday night, in Fendi's sprawling showrooms and studio, the designer kept an eye on models for fittings while chatting with friends, eating pizza and firing a small dart gun at employees. His aim was surprisingly good, in more ways than one.
Fashion season here often feels like a chaotic family reunion, the Italian version of the Tenenbaums. Among those in the studio was Sebastien Jondeau, who worked for Karl Lagerfeld for years as a personal assistant and sometimes as a model at Chanel. Jondeau's first child, a daughter named Julia, had been born a few days earlier and Dad shared pictures of the pink swaddled infant on his phone.
fendi
Photo: Courtesy of Fendi
Elsewhere there was a strong attitude towards life that was reasserting itself and also moving in fun new directions. I don't think I've seen the city so crowded in more than 30 years of covering the Milan collections. Restaurants and shops are full, not only with fashion people. Over the past decade, Milan has become more and more of a cosmopolitan city, with a greater mix of races and cultures, many more young people and an explosion of new retail outlets, galleries and food stalls.
In the past, in the late 80s and 90s, the big criticism of Milan was that nothing ever changed. But that's hardly true today, and the post-pandemic era has reinforced that feeling. On Wednesday morning I visited a number of shops including Prada on Via Monte Napoleone and then walked around Brera which has the flavor of Soho and is teeming with new boutiques, particularly for fragrances and candles.
Diesel.
Photo: Victor Virgile/Gamma-Rapho via Getty Images
The rapid movement of things, along with the steady erosion of historical memory, is reflected, unsurprisingly, in the dresses designers are showing. Diesel's Glenn Martens ushered distressed denim into new territory, with pieces that were frayed, feathered and heavily bleached. A standout look, a fitted denim blue dress appeared to unravel at the hem and ended in a wide stretch chiffon band. Martens showed off the body as much as it hid it, under soupy denim and cotton fleece jackets and baggy trousers – seemingly a nod to Gen Z preferences. But Martens' genius lies in how he deftly borrows couture elements like the lavishly frayed neckline of a fitted denim jacket, while never losing sight of his casually dressed audience.
Milan does indeed have a long history of kinky chic, and not just from Versace, which has partnered with the Richard Avedon Foundation to sponsor a new exhibition including pictures Avedon made for the late Gianni Versace. But erotica – the uninhibited 21st century way – is likely to be a main theme of the spring collections, with Prada for example, which is set to do a show later today called 'A Touch of Crude' in collaboration with filmmaker Nicolas Winding Refn. (The company sent guests small black cardboard camera obscuras as a teaser.)
Del Kern.
Photo: Valerio Mezzanotti
Alessandro Dell'Acqua had many lingerie-inspired dresses and other styles that looked wet on his No. 21 show. In a sea-inspired collection, relatively young designer Daniel Del Core oscillated between sharp tailoring, such as dark green python-print leather, and ultra-feminine pink florals that appear sculpted on the body. He, too, wore transparent and drapey clothing, including a black dress that was remarkably close to Azzedine Alaïa's famous mummy designs. Do people notice that today? Do you even care? There's a growing sense that the industry functions like a machine – or a hungry sea monster – devouring the past and the present and affording a split-second glimpse into the future. For Del Core, the problem is compounded because he hasn't created a clear identity for his label.
"It's everything and nothing – that's what I like about things," Jones said of his latest Fendi collection. Also responsible for the men's collections at Dior, Jones spoke easily. This was among his better efforts, in part because the shapes and pose were so youthful and realistic. When he first took over Fendi as Lagerfeld's successor, the designs felt a little overdone, his wife deserved a pedestal. It's all gone.
The girls emerged with hair half pinned to their faces, wore sheer knit tops or satin tunics layered over shifts or satin cargo pants, and their feet tucked into molded rubber platform slides. The collection answered many things at once. It was very adaptable; Some of these layered garments, like a loose satin tunic or open-sided woven leather type vest, can be worn however you like. It was circular – meaning many of the styles were made from recycled materials. Fluffy sweaters in lime green or cream were mink pieces that were shredded and then knitted. Jones also used shearling in fresh ways, as cropped jackets that mimicked the mesh jersey of sportswear. And the collection seamlessly tied into Fendi's past – the seashell tones were archival, as were floral motifs for dresses and leather tops – expanding the Jones era. The minimalist, Japanese-inspired coats and obi sashes sprang from his July couture show and looked fabulous ready-to-wear.
However, with the pandemic helping to block our memories and also exacerbating the rapid pace of change, everything and nothing feels like a modern condition. At the Prada store, I met an old friend, Preia Narendra, senior vice president of marketing for the company, which handles VIP relationships. Preia was dating a young blonde woman who introduced herself as Ella.
"I just wanted to say hello," the woman said, smiling shyly. "We met at a Dior dinner."
I murmured something pleasantly polite as my mind scanned distant dining tables, then said brainlessly, "Oh, how nice to see you!"
Later I saw Preia and whispered: "who is Ella?"
She smiled and said, "Lorde."