enter the newly expanded art gallery of new south wales
The Art Gallery of New South Wales unveiled as part of the Modern Sydney project lead by SANAA. Featuring works by more than 900 Australian and international artists, the inaugural program is free to visitors as the art is transformed museum Opening 3 December 2022. The expanded art museum in Gadigal Country overlooking Sydney Harbor comprises the new building and the existing late 19th century building linked by an art garden.
"The well-loved existing building has been revitalized with beautifully renovated spaces restoring architectural features and a completely reinstalled collection in all galleries. Visitors can travel through time, ideas, human stories, and controversial stories. shares the gallery.
The director of the Art Gallery of New South Wales, Dr. Michael Brand says: 'My vision for the Sydney Modern Project was to transform the Art Gallery into an art museum campus with seamless connections between art, architecture and landscape; A generous and intelligent art museum that believes that the art of the past is crucial to understanding the art of our time.'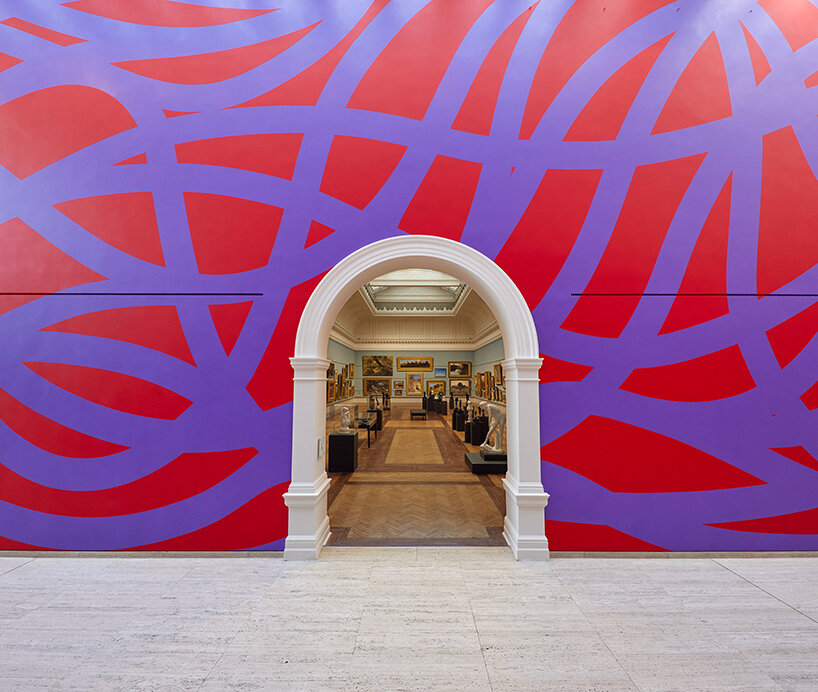 "Wall Drawings #955" by Sol LeWitt in the gallery's John Kaldor Family Hall
Image © Art Gallery of New South Wales, Christopher Snee
Proposing the world seen from Sydney, the opening program contributes to critical global conversations. Throughout campus, visitors will encounter works that excite, inspire, provoke and excite. Recent purchases and commissions from artists exhibiting for the first time include Chadim Ali, Charles Dickens, Jeffrey Gibson, Samar Golden, Barkley L Hendricks, Kimsooja, Simon Leigh, Sanne Mestrom, Elizabeth Pulie, Shireen Tawel, Howie Tsui and Justen Williams.
Ultimately, the SANAAdesigned Extension of the Art Gallery of New South Wales'almost doubling our exhibition space and providing new types of spaces for new thinking and new art forms with a more permeable connection between indoors and outdoors", comments dr. fire.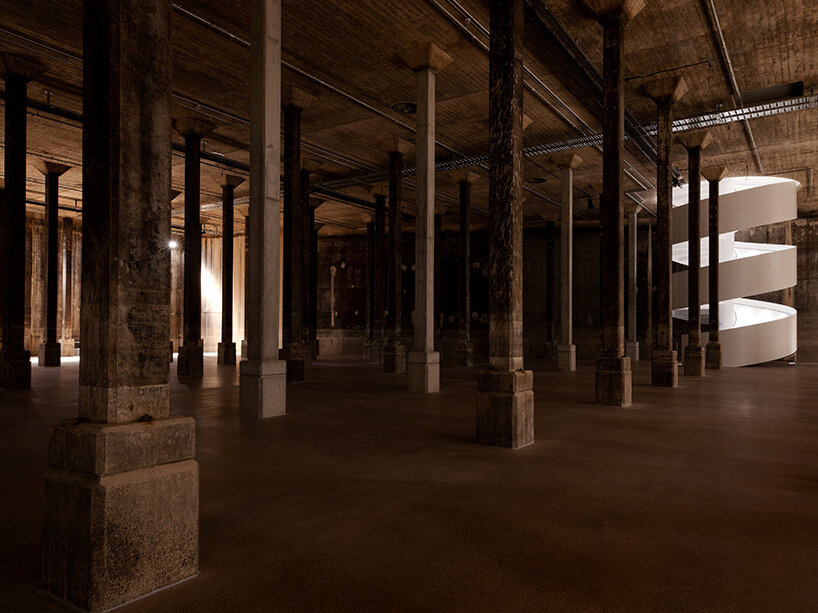 The "Tank" room, a former WWII bunker
Image © Art Gallery of New South Wales, Jenni Carter
Adrián Villar Rojas revealed himself as the first artist
Minister of Arts and Tourism Ben Franklin also announced Argentine-Peruvian Adrián Villar Rojas as the first artist commissioned for the underground gallery called Tank. At the lowest level of the new building is the 2,200m² former WWII oil tank, now a spectacular exhibition space, and will be enlivened by Villar Rojas' stunning artwork 'The End of Imagination', which will be unveiled during the opening in December becomes .
The project is the culmination of a four-year collaboration with the art gallery and is sure to immerse visitors in the world of Villar Roja. The artist is best known for his collaborative, site-specific sculptures, including the Intervention on the meads rooftop in New York in 2017.
Villar Rojas, who visited the art gallery for the first time in 2018, explains: 'The project, which has grown over the following four years, is the product of many hands, many minds, many conversations, many questions, and many media, including virtual and physical. And one of the most important mediums was time – the time to linger in a space, to talk to everyone from archivists to indigenous curators to conservators to push ideas and technologies and the conditions of a world that exists into the project involved has changed massively.'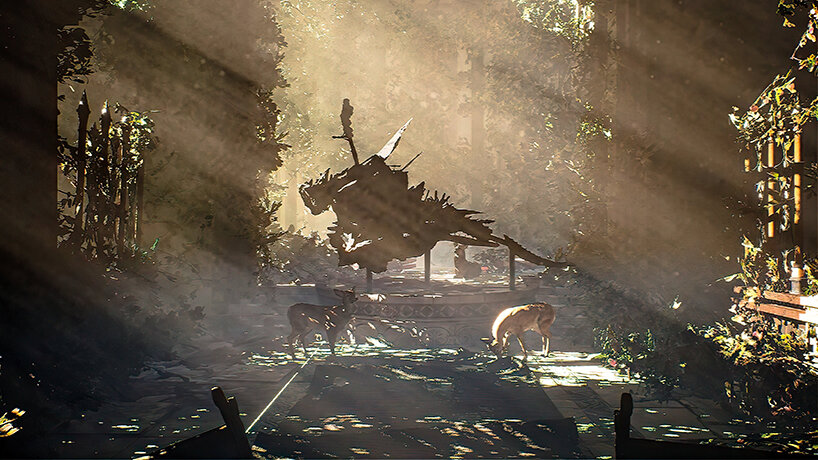 Live environmental simulation generated by "Time Engine" software | © Adrian Villar Rojas (2022)
Image courtesy of the Art Gallery of New South Wales
'The completion of the Art Gallery of New South Wales expansion not only offers more art for more people, it also reveals a hidden treasure – a former WWII naval fuel tank that has been masterfully converted into a world-class exhibition space where visitors can will have to see this first tank order, The End of Imagination. Franklin shares. "Adrián is internationally known for his huge, site-specific installations that offer immersive art experiences. On behalf of the NSW Government it is with great pleasure that I welcome you to see his work from 3 December."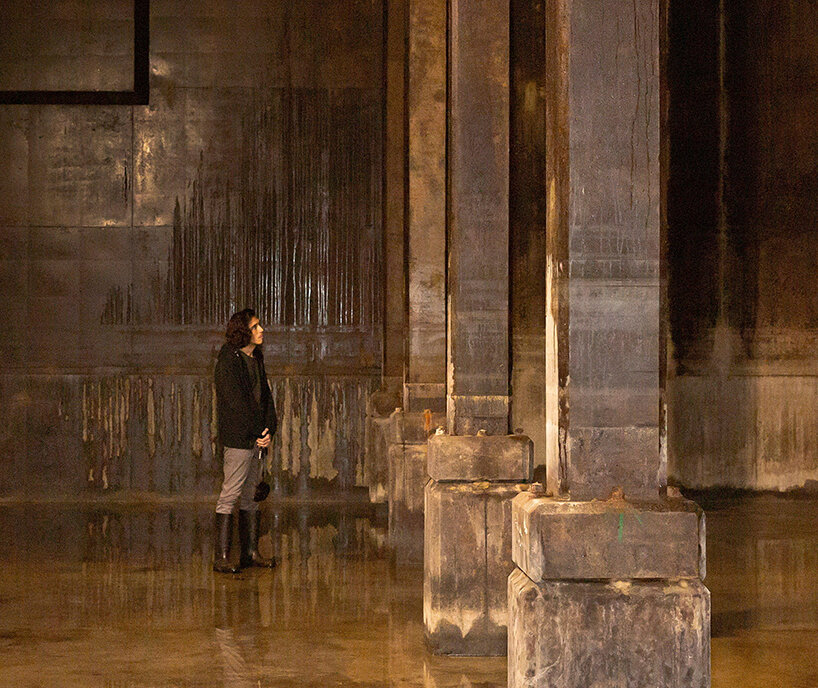 Villar Rojas on his visit to the 'Tank'
Image © Art Gallery of New South Wales, Mim Sterling
to discover new, fascinating rooms and exhibitions
Nine bold and captivating new commissions on display both inside and outside the new building include Francis Upritchard's Here Comes Everybody, a trio of playful pairs of bronze creatures who will greet visitors at the Welcome Plaza; Jonathan Jones' bial gwiyuŋo (the fire is not yet lit), a living work of art at the heart of the expanded art gallery; Lisa Reihana's (Ngāpuhi, Ngāti Hine, Ngāi Tū) moving image work "GROUNDLOOP" with a view of the central atrium; Richard Liver's multi-panel painting "Onsite" and Yayoi Kusama's "Flowers" blooming in the cosmos that will be prominently positioned on the tiered terrace overlooking Woolloomooloo Bay.
Upon entering the new building, visitors are greeted by the inaugural exhibition of Aboriginal and Torres Strait Islander art at the newly relocated Yiribana Gallery. The collection celebrates ideas of generosity and caring and emphasizes the connections between people.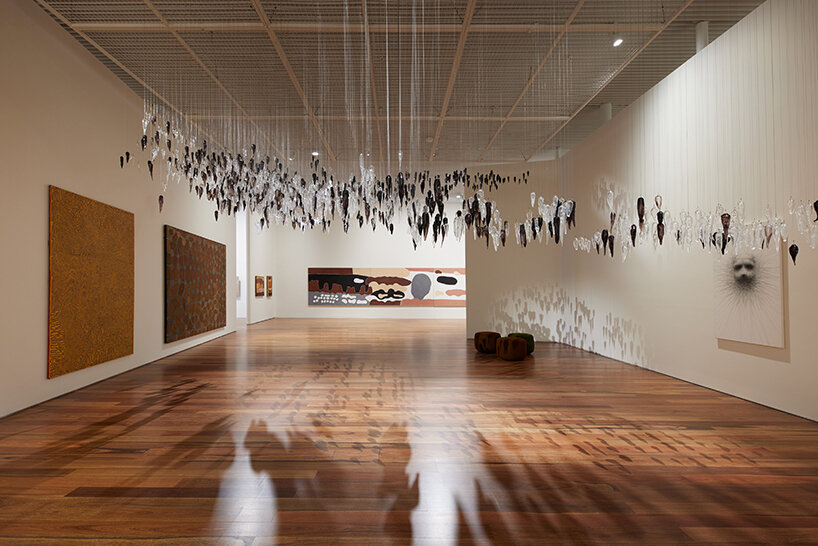 Installation view of the Yiribana Gallery
Image © Art Gallery of New South Wales, Jenni Carter
Other exhibitions are: Dreamhome: Tales of Art and Shelter – Artists reflect on "home" from their own rich local perspective while registering shared hopes and fears that are currently being felt in many places; make worlds – with ideas on mapping, time, creation and connection around Kimsooja's monumental participatory work Archive of mind in the large pillarless gallery; and To forbid – Celebrating the anti-heroes of popular culture in the Art Gallery's first purpose-built new media gallery.
In the meantime, 'From here, for now' Presenting work in ten curated rooms, beginning with Australia's outback as a sign of national identity, it blends with American misfit stereotypes and hidden histories through works by Charlene Carrington, Rosemary Laing, Robert MacPherson, Richard Prince and Kaylene Whiskey. It also features a new commission, Simryn Gill's new major work 'Clearing', which responds to elements of the natural history of the new building's site.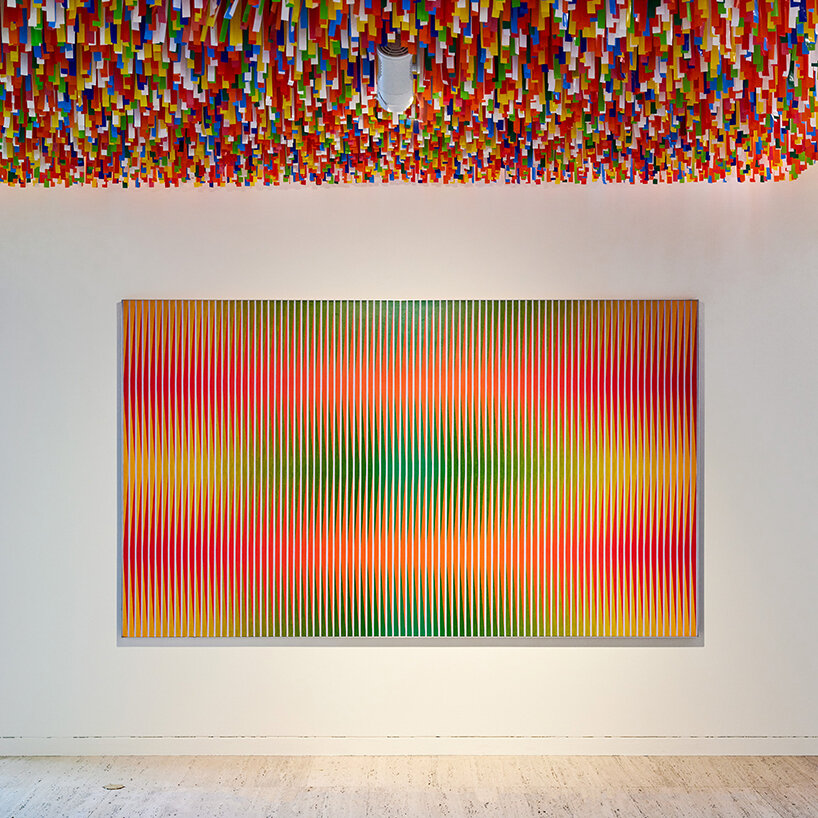 above: "Rally" (2014) by Nike Savvas, wall: "Solstice" (1974) by Lesley Dumbrell in 20th Century Galleries
Image © Art Gallery of New South Wales, Christopher Snee
Complementing the exhibition are 20th Century Galleries featuring works from the Art Gallery's Australian and international collections, highlighting the connections and differences between local artists and broader global developments in some of the most turbulent, exciting and innovative decades in art and human history. This new exhibition includes the restaging of Ken Unsworth's 'Suspended Stone Circle II' with 103 river stones, each weighing around 15kg, suspended by 309 wires, now hanging for the first time in the newly unveiled two-level atrium.
Visitors also get their money's worth Asian Lantern – with the show "Correspondence", which marks important moments in Asian art and history, and "Elemental", which explores the natural elements of earth, water and fire. Last but not least the Big dishes focuses on the art gallery's historical collections, enlivened by contemporary voices that encourage moments of pause and reflection.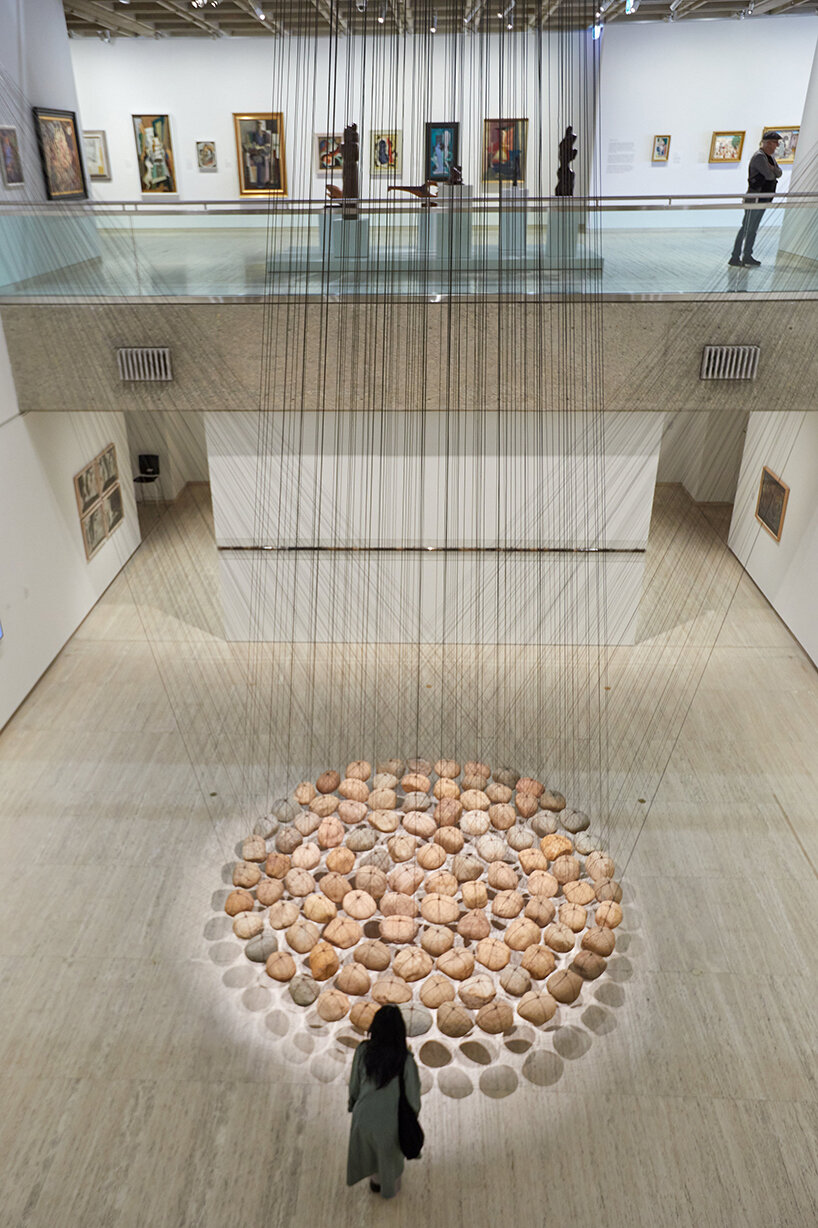 "Suspended Stone Circle II" (1974-77, 1988) by Ken Unsworth in Galleries of the Twentieth Century
Image © Art Gallery of New South Wales, Christopher Snee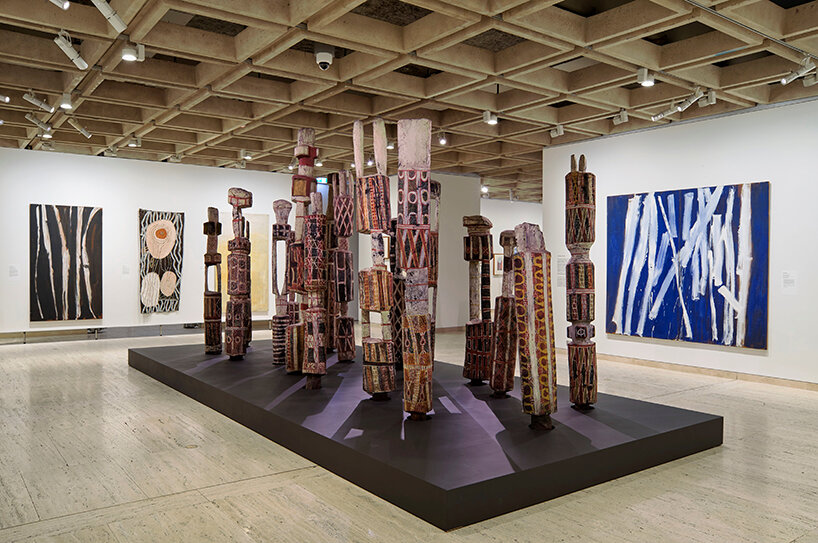 Installation view of the 20th Century Galleries
Image © Art Gallery of New South Wales, Christopher Snee
Project info:
Surname: Art Gallery of NSW – Part of the Sydney Modern Project
Location: Sydney, Australia
architecture: SANAA
first artist: Adrian Villar Rojas
Selected artists: 900+