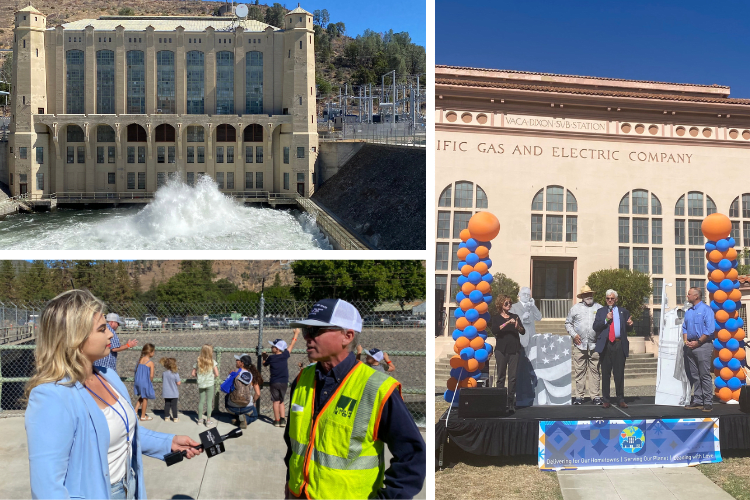 Hometown Celebrations Salute the past, envision the future
By Paul Moreno and Megan McFarland
100 years ago, 15-year-old Isabel Creed, daughter of then-PG&E President Wigginton Creed, closed a knife switch on PG&E's Pit 1 Powerhouse and sent 220,000 volts of electricity 202 miles away to the Vaca-Dixon substation. At that time, it was the longest high-voltage line in the world capable of carrying the highest voltage.
The power plant, power line, and substation would help boost California's economy by enabling clean, inexpensive power to travel long distances and setting the stage for more hydroelectric power plants and a network of long-distance transmission lines that would spur a century of US economic growth Bay Area and much of California.
On Friday (September 30), just like 100 years ago, PG&E held joint celebrations at its Powerhouse Pit 1 at Fall River Mills in Shasta County and its Vaca-Dixon substation in Solano County. In attendance were PG&E employees, retirees, community dignitaries, school officials and reporters. The celebration recognized the significant role these PG&E assets have played in California history and looks to the future as PG&E continues to provide safe, reliable, affordable and clean energy to its customers every day.
"Same energy in the air" as 100 years ago
"Today was an amazing day at Vaca-Dixon and Pit 1 Powerhouse as members of the community came together to celebrate PG&E's strong past and even stronger future," said Joe Wilson, PG&E vice president for the North Valley region and Sierra spoke to several hundred people at the substation. "One hundred years ago, PG&E employees and community members gathered to see the Pit 1 Powerhouse and Vaca-Dixon Substation come online and begin their long history of reliably powering Northern California. You could feel the same energy in the air today as we reflected on where we came from and where we are going. I am proud to be a part of this company and our rich history."
Jason Glickman, EVP of Engineering, Planning and Strategy, and Marlene Santos, Chief Customer Officer and EVP also attended the Vaca Dixon event.
Watch a video below on the incredible story of PG&E's Vaca-Dixon Substation and Pit 1 Powerhouse:
Today, the Vaca-Dixon Substation supports a network of transmission lines and acts as one of the power gateways for the San Francisco Bay Area. Much of the energy it receives comes from PG&E's large fleet of hydroelectric power plants in distant mountain ranges.
Prior to the opening of Powerhouse Pit 1, the Vacaville area was primarily powered by a number of local petroleum generators. Once the substation came online, PG&E was able to harness clean hydroelectric power by connecting Vaca-Dixon to Pit 1's powerhouse.
"Hydropower's attributes of being carbon-free, reliable and affordable are as important today as ever," said Jan Nimick, PG&E's Vice President of Power Generation at the Pit 1 event to meet peak periods of customer demand for electricity, such as those we experienced recently during the heat waves. Hydropower works when the sun isn't shining and the wind isn't blowing. It can be deployed quickly to meet grid power needs and helps us fill in the gaps from renewable energy sources such as wind and solar."
Anniversary celebrations included gifts to local schools
At the celebrations, PG&E presented the Shasta County Office of Education and Solano County Office of Education with $50,000 in grants that award to local schools for STEM (science, technology, engineering, arts, and math) education should be.
"PG&E invests in our schools and our young people. When we think about the jobs that are available in the energy industry not only today but also for years to come, PG&E is truly investing in our future. Today I'm here to say thank you on behalf of the Solano County school children who will have opportunities in STEAM and innovation to continue to advance our community," said Lisette Estrella-Henderson, Solano County Principal.
During events at both locations, PG&E showcased the latest technologies to advance a safer, more reliable and more sustainable power grid. At Vaca-Dixon, attendees learned about PG&E's bi-directional EV charging pilot program, which is testing how electric vehicles and chargers can power the grid, and other benefits for customers. PG&E is conducting this pilot program in homes, businesses and with local microgrids in select high fire risk districts, evaluating how the system works and how it can provide benefits to customers during an outage.
Both events were well attended by PG&E employees and retirees, community members and local leaders. Company representatives were staffed at booths to share information about important and innovative efforts to improve safety, including burying 10,000 miles of power lines in high fire risk areas and our advanced power line safety settings, which automatically cut power in a fault condition Tenths of a second interrupt detected to prevent ignition.
Art, technology and history are exhibited
One of those present at the Pit 1 Powerhouse celebration was PG&E retiree Robert Ingram, who started out in 1985 as a helper for a hydroelectric powerhouse maintenance team. But his connection to the Pit 1 Powerhouse began much earlier as birthday parties growing up were held in the former community pool on the Powerhouse grounds. On Friday, he said he was still in awe of the workers who built the power plant.
"It's a work of art and very well constructed," said Ingram. "A few years ago when the engine tailrace (where the water exits the engine) was replaced, the contractor said the concrete forms were so well done, 'I don't know how they did that. I don't have anyone to copy that.'"